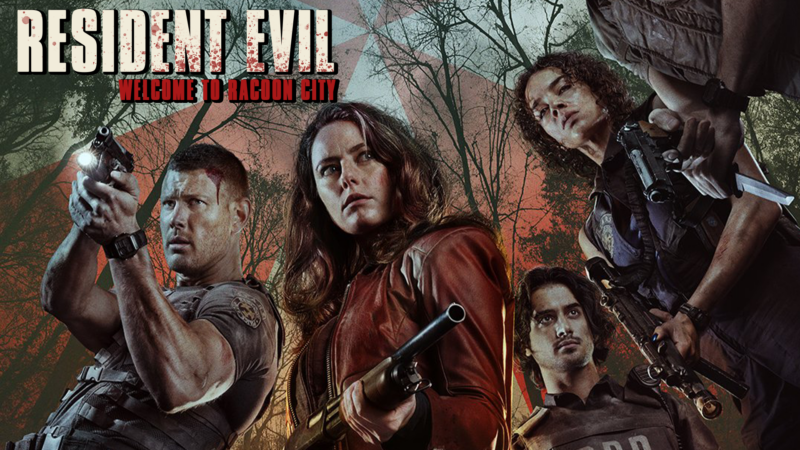 We're just a few weeks away now from the release of the latest Resident Evil motion picture, Welcome to Raccoon City. With shockingly faithful recreations of locations and vehicles, I've been extremely excited to see more of this film in action. and thankfully director Johannes Roberts has released a new teaser showcasing direct comparisons between his film and the games, excitedly touting that the film is "a very faithful adaption of the games". Check it out:
While things like the fact that the trucker is eating a burger might seem a bit silly, seeing the R.P.D. Front Hall gets me good. We saw the very edge of the reception desk in the previous trailers, but now seeing the full thing is just blowing my mind. You can even see a typewriter, right where one was in Resident Evil 2/3 Remake, which is a nice touch. The actual comparison in the trailer is a bit weird, so I edited a more direct one here: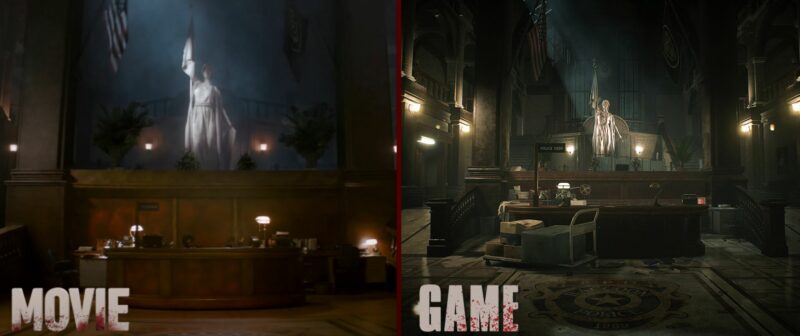 There's also a few other shots that I'll touch on real quick — such as this one, which appears to feature Lisa Trevor showing Claire and Leon a path down into the Umbrella labs beneath the orphanage:
Next we have a new shot of Birkin, with Annette and Sherry in the background, as he grimly hangs up a call. Odds are this is Birkin receiving a tip-off that Umbrella is coming for him, and his life's work. This is presumably just before he comes into Sherry's room to tell her that she needs to come with him in the international trailer.
Next, we get a few direct comparisons to the game, starting with Raccoon Orphanage, a location introduced in Resident Evil 2 Remake. We already saw this set during the day thanks to fans, but here we finally get a good look at it as it's meant to be seen:
While it is obviously making changes (such as a few character backstories and some of the costuming) in order to flow better as a film, where there's significantly less time and no way to read documents to provide hours worth of backstory, I'm on board with what they've shown off so far. In comparison to the previous films (which only very loosely adapted Resident Evil 3 and nothing else), the changes to the two stories this film is tackling (so far) don't bother me.
From 1:1 sets and actually 1:1 dialogue in places as well, I'm more than willing to give this film a chance when it releases on November 24th.