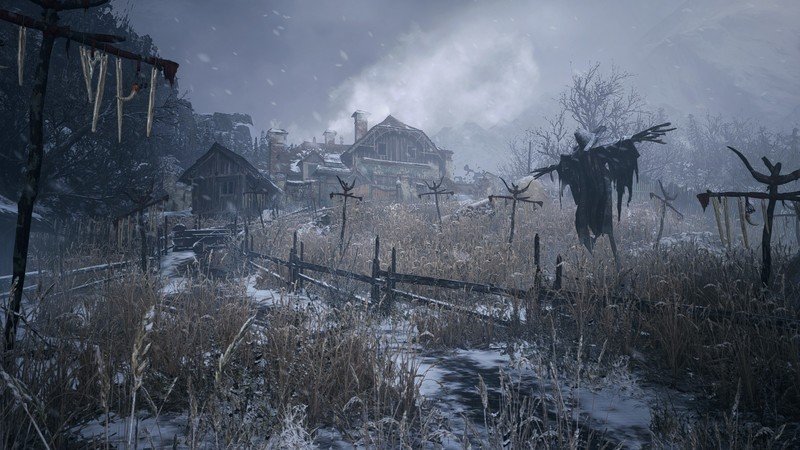 Back in June, Capcom revealed that Resident Evil Village would be receiving DLC at some point in the future due to "popular demand". There hasn't been any word on that since, leaving most fans to assume it's probably something slated for next year (and after Resident Evil 4 VR and Welcome to Raccoon City's marketing dies down). We've finally received our first tidbit of information regarding it, and I do mean bit. Buried within Capcom's Annual Integrated Report (which also revealed that Resident Evil 3 Remake is being considered a hit after surpassing 3.9 Million units) was a short blurb about their online business strategy:
"We will drive our customer management to understand the playing trends and preferences of users while also building a business model for online operations, taking into account the situation of our free additional DLC for titles such as Monster Hunter Rise and Resident Evil Village."
This is the first time any sort of price point for Resident Evil Village's DLC has been discussed, and free is kind of surprising given how long after release it's going to end up releasing. That said, free DLC seems to be doing very well for Capcom, as both Resident Evil 7 and REmake 2 received free DLC content, in the form of RE7's Not A Hero story chapter (which added about two hours of content starring Chris Redfield that served as the game's true ending) and REmake 2's Ghost Survivors (a series of short episodes seeing dead characters escape from their fates against a strategically placed zombie horde, and a new horde mode) and the release of classic PS1 model costumes as well. REmake 3 skipped DLC entirely (not counting the pre-order classic costume and hair), presumably to keep the focus on the free updates for its pack-in title, Resistance.
Resident Evil Village already has quite a bit of DLC, but none of it is story-focused — only things like weapon charms, additional funds for the Duke's shop, and the collector's edition Trauma Pack (which includes a set of RE7 themed cosmetic changes and items), which are all paid. It remains to be seen what exactly the new DLC will bring, as fans have been hoping for a new story chapter that ads Ada Wong (after it was discovered that she was included in an earlier version of the script), but it could be literally anything really. There's also still RE: Verse to consider as well, which was delayed into next year and still has no information regarding its planned release (and wasn't mentioned in this report).
[Source]