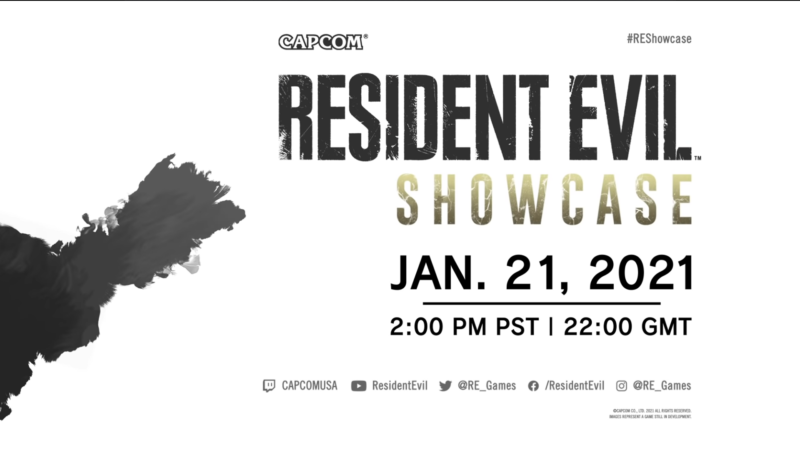 After months of waiting, the Resident Evil Winter Update is finally here! Even more exciting, it isn't just limited to Resident Evil 8: Village, but a special update on the franchise as a whole (including Village, of course). This was announced via a short teaser on Resident Evil's official YouTube and Twitter. Not only does it announce the showcase, but it's also made up almost entirely of new Village footage!
The Resident Evil Showcase will be happening on the 21st, a little over a week from now, at 2pm PST/22:00 GMT, you can keep up to date with the hashtag #REShowcase. Along with this short video came the announcement of a Resident Evil 25th Anniversary Closed Beta. The beta itself will be held on the 27th of this month through the 31st, switching on and off as per maintenance hours. There's zero new information regarding the Beta at the moment, with more details to come via the Resident Evil Showcase, but the beta will be held on PlayStation 4 and Xbox One, not PlayStation 5 and Xbox Series systems, which is quite interesting. Even more surprising, this Beta is for a new, unannounced multiplayer game, consisting of 4-6 players. You can apply to be a part of the Closed Beta here.
As stated above, this short teaser actually includes a ton of new Village footage, almost exclusively made up of new clips showcasing combat, exploration, and extended looks at moments we've previously seen built up in older trailers. There's a ton to break down here, but I'll save that for its own post later on, it deserves its own spotlight, and like I said, there is quite a bit despite only making up a portion of Capcom's 30-second teaser.