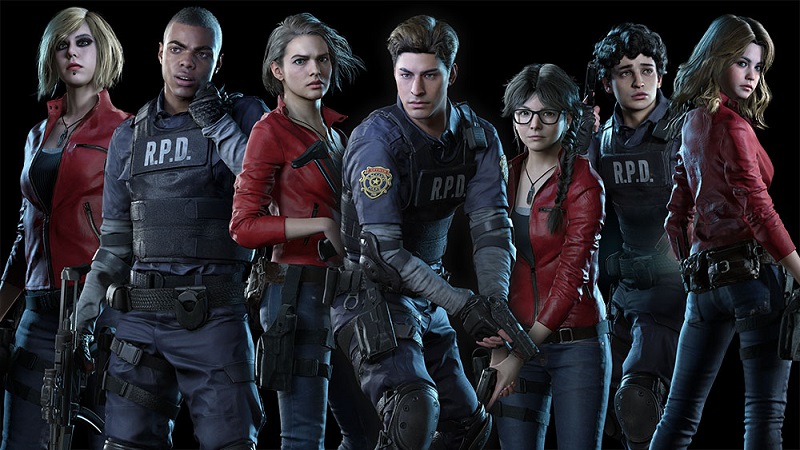 Resident Evil Resistance fans rejoice, as a new DLC pack was just announced for release in August, featuring our beloved Resident Evil 2 characters, Leon and Claire! Well, their costumes, anyway.
Capcom has announced that the upcoming DLC pack will feature wearable costumes for all of the survivors, including Jill, to let them transform into either Leon or Claire, depending on their gender. They should probably let the characters also dress as the opposite gender, too, but I digress.
Specific details on the release date and price of this pack have yet to be announced, but there's a pretty preview image showing all the survivors in their Leon and Claire getups, which you saw above.
On top of the Resistance DLC, Resident Evil 3 remake will also get a new DLC pack that allows players to instantly unlock all of the items from the in-game shop. I'm not quite sure why this is being added, but it was also in the Resident Evil 2 remake, so I can't say I'm surprised. RE2's unlock pack was priced at $4.99 USD, so I'd wager a guess that this one will be the same, but we'll have to wait for Capcom's official confirmation to know for sure.
Capcom also showed a fancy new image of Jill with her RE1 costume and all the weapons and items that will be unlocked with that DLC. Similarly, a price and date have not been confirmed for this yet, but for all of those who never finished unlocking everything back when the game came out, now's your chance to boot it up again and see how fun the rocket launcher is.
Stay tuned to the official Resident Evil Twitter account for further announcements; we know these will be out within the next four weeks at the latest.
Add some style to the Survivors with Leon and Claire paid costume DLC, coming to Resident Evil Resistance in August! Plus, All In-game Rewards Unlock DLC is on the way for Resident Evil 3! pic.twitter.com/UjbugljpIs

— Resident Evil (@RE_Games) July 30, 2020