New Resident Evil: Operation Raccoon City details from OPM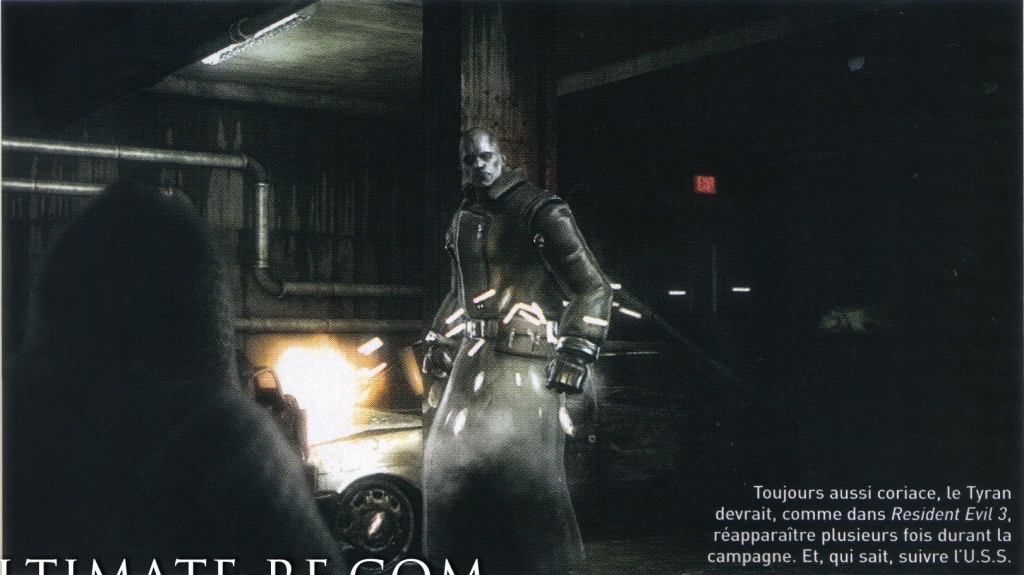 Today scans hit from OPM giving us some new images and details for the upcoming Resident Evil: Raccoon City. Below you'll find a brief re-cap of the article's main points translated from its source language. Somethings may be missing but I tried to get everything (everything that's new at least). You can also find images from the scans below which belong to Ultimate Resident Evil. You can head on over to their site to check out all the scans for yourself.
– One of the main missions of the game is to "kill Leon" thus signifying the ability to change the history of Resident Evil.
– You're able to use enemies (like zombies) as cover even while moving.
– Like other third-person shooters you'll also be able to take cover behind objects like stationary vehicles.
– The game will pay respects to the classic titles (Resident Evil 2 and 3) by bringing back that sense of horror that's been missing.
– The base inspiration for the foundation of the game is noted as being Resident Evil 2.
– We'll get more insight towards Mr. X before he was sent to Raccoon City to pursue Leon/ Claire.
– Leon is your main prey throughout the game (in regards to the USS team)
– Previous controls have been abandoned in place for a more modern control set akin to today's third-person shooters.
– Capcom is behind such a change in game-play and this is why they approached Slant Six over the development of such a project.
– As aforementioned you'll be able to grab enemies and use them as cover which will add to the game's team-based strategic style.
– We're going to get a very dark look at the classic city in the game with new and iconic locales.
– The end of the demo showed off a battle with Mr. X.
– The USS team takes their inspiration largely from Mr. Death himself, the 4th survivor Hunk. The team is also situated on Rockfort Island which is another locale fans recognize.
– Hunters and Lickers are confirmed and they'll be able to also mow down zombies if they're in the way of their destruction.
– Operation Raccoon City will let players see the story of the Resident Evil universe (pre-RE4) from a whole new perspective.
– Shooting lights will be one of the mechanics in the game and doing so will help you stay clear of zombies due to them being attracted to said light.
– Environments will have destructible objects for you to use agains the hordes of zombies.
– Capcom remains silent over topics relating to the game's multiplayer mode and what other surprises the game's story may have for players. We'll likely hear more about this game at E3 so stay tuned.
[Source]