Resident Evil Multiplayer Title Accidentally Revealed By Steam Update
A few days ago we reported on Capcom's just announced new Resident Evil multiplayer entry, or rather the beta that they just announced for it. Since the announcement of the beta, we've received very little information on it beyond two key bullet points: It's designed for 4-6 players and will be released on last-gen consoles (as those are the only platforms the beta is on). We're also pretty sure we spotted one of the game's multiplayer maps, teased in the background of the teaser for Capcom's upcoming Resident Evil Showcase stream (a modified R.P.D. front hall), but that's it. Well, until today that is.
As per usual (sadly) with Resident Evil this past year or so, the cat has been let out of the bag due to a too-early-for-their-own-good Steam database update. This has happened before, when the Steam database for REmake 2 revealed the addition of the Jill Valentine letter, and again late last year when a new image was added to the Resident Evil: Village page that may have spoiled a major plot point. This time it's a little more major than that, as the update has revealed the title of that upcoming multiplayer game thanks to the specific Steam page the update was made to. I guess I won't keep you in suspense any longer — the title is Resident Evil: Village.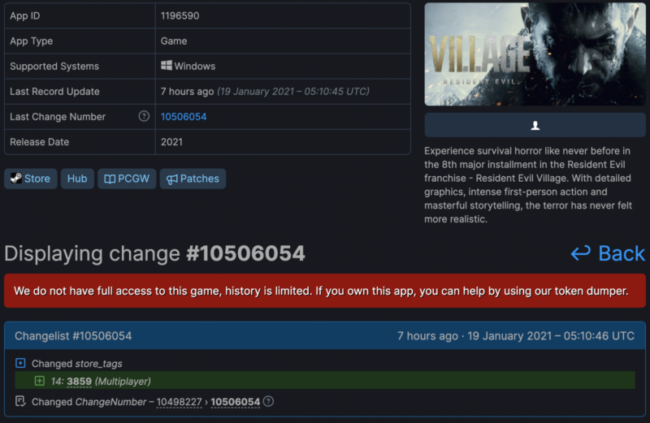 Yep, it appears that Village will be including a new multiplayer mode of some kind, and it won't be a separate title simply bundled with the game like Resident Evil: Resistance was with REmake 3. This comes as a major surprise, as it has revealed much, much more than just the inclusion of a multiplayer mode — it has also confirmed that Village will be coming to last-gen systems. Capcom previously commented on making efforts to get Village running on last-gen (PlayStation 4 and Xbox One, that is), and the upcoming beta's last-gen exclusivity has now revealed that they managed it.
It's hard not to feel very bad for Capcom at this point, as almost every major detail for Resident Evil: Village has been revealed at this point. Between either the horrendous hack (which we refused to report on details from) or Capcom's own stumbles with keeping secrets, this entire game has been nothing but a nightmare of leaks and early spoilers. Hopefully, a few secrets still lie in wait for us during the Resident Evil Showcase stream on Thursday. We'll keep you updated, of course!
[Source]