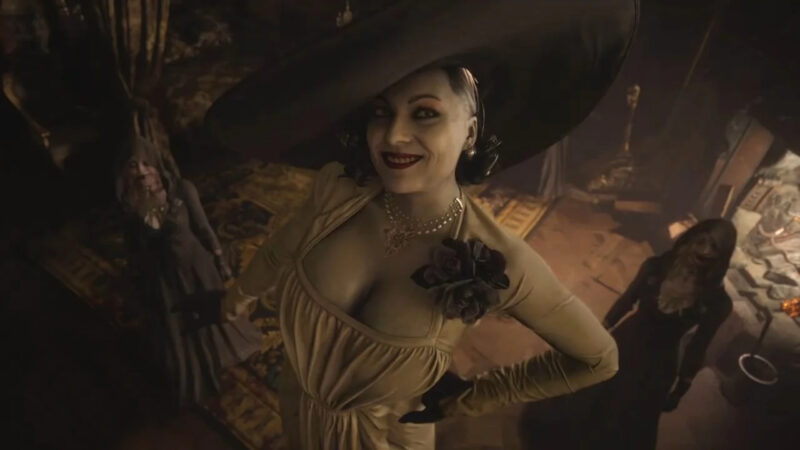 While eager Resident Evil fans were no doubt delighted by the hyper-detailed Chris Redfield statue included in the Collector's Edition of Resident Evil Village, there was no doubt a section of the fanbase who might've wanted a very different character as the pack-in statue. Capcom has gone on record as stating that the shocking amount of love for Alcina Dimitrescu, the vampiric lady of the looming castle, completely blindsided them. it was only a matter of time before memorabilia was produced to catch up to the rabid thirst appreciation for the character. Thus far all there's really been is a T-shirt (as far as I'm aware), but one lucky fan is about to get a little tall lady of their very own.
In celebration of Capcom Dev1's Twitter account hitting 50,000 followers, Capcom has announced a contest to win a 1:8 scale figurine (I think that's about 12″ high?) of the lady herself! The figurine depicts her in her finger-bladed glory, and comes packed with a certificate of authenticity and a signature from the Art Director who designed her (presumably Art Director Tomonori Takano). The statue is limited to one, so 'limited edition' doesn't quite do this piece justice. You can read over the official rules over on the contest's webpage, and there's still plenty of time to participate as the entry period doesn't end until June 13th!
While this figurine is one of a kind, I have no doubt that this won't be the last we see of Lady Dimitrescu memorabilia from Resident Evil Village. While she's only one part of the game's treasure trove of villains, there's no doubt that she took over the game's marketing campaign almost entirely, and still holds on to fans hearts even after the release of the game. We can't wait to see what's next for her tallness!