Resident Evil Joins Smash! …as Spirits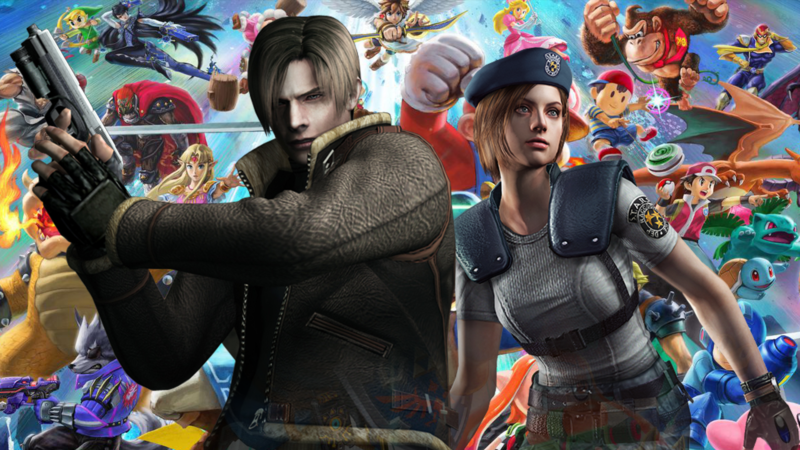 And yet another finger on the monkey's paw curls.
Super Smash Bros. Ultimate has become something of a video game Avengers — a massive crossover not just of Nintendo characters, but now expanding to the farthest reaches of the gaming industry. From Persona 5 and Dragon Quest characters to making a deal with Microsoft to allow Banjo Kazooie to jump in, Video Games: The Video Game just keeps getting bigger and better. I'd been hoping that some Resident Evil all-star(s) would get the chance to join the fight, and it looks like, for the first time ever, they will! …As Spirits.
Conquer the looming fear! For 5 days starting 11/29, Chris, Leon, Wesker, and Jill will appear on the Spirit Board in Super #SmashBrosUltimate! Check it out! pic.twitter.com/fgHSZgyY8m

— Nintendo Versus (@NintendoVS) November 27, 2019
In case you don't know what Spirits are, here's the Smash Wikia description:

Spirits are a type of power-up in Super Smash Bros. Ultimate. They are also featured in Adventure Mode: World of Light, where they assist the fighters in defeating Galeem and Dharkon. Spirits can be seen as similar to stickers in Super Smash Bros.
As fun and exciting as it is to see Resident Evil characters join Smash, it is kind of heartbreaking to see that they will apparently never be actual fighters. Especially REmake Jill or RE4 Leon, characters I'd consider iconic to the GameCube era, is a hard pill to swallow. Regardless, this is a limited-time event, ranging from 11/29 to 12/3, so snap them up while you can! This, of course, doesn't mean that RE may never be featured, especially with the chance of REmake 3 looming on the horizon, RE3 era Jill (arguably one of the most iconic characters in the entire series) or even Nemesis (who already has a fighting game set up thanks to its two appearances in Marvel vs Capcom) could be in as a cross-promotion? Fans are also holding out hope that Dante or another character from DMC might make it in, and my dreams rest firmly on Phoenix Wright with Edgeworth as an echo-fighter. Who am I kidding, knowing Sakurai the next DLC fighter is probably Bonk or something.