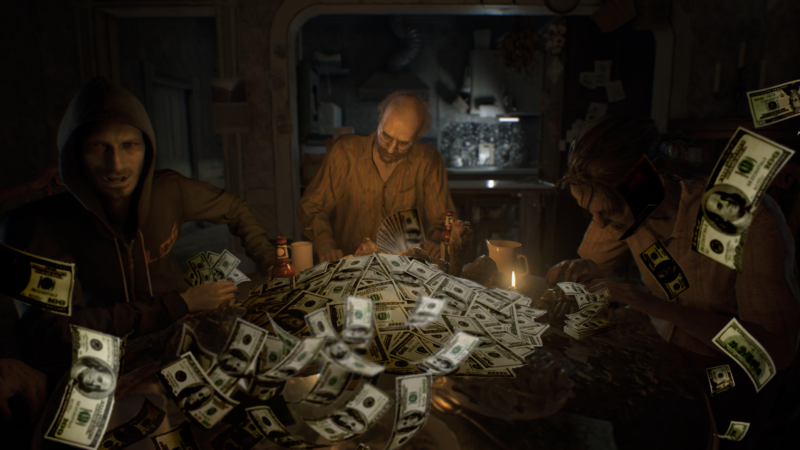 After 11 years, 2009's Resident Evil 5 has finally been dethroned as the top-selling single release RE title of all time. It sat pretty all this time as the highest-selling Capcom game in general for years, but was finally ousted by 2017's Monster Hunter World a few years ago (which has sold so many freaking copies it's likely nothing will ever catch up to it). For the last year or so, we've been watching in anticipation as the initially poorly-performing Resident Evil 7 slowly crept up on RE5, overtaking each previous release one by one. Last time we published an update on it, Resident Evil 7 had just tied with RE6 as the second best selling game in the series (and the third best selling Capcom game over all). It only had .2 million units to move before it tied with RE5, and we were fully expecting that it would do that first — but in fact it has suddenly sailed right past it. Resident Evil 7 now officially sits as the highest-selling single release Resident Evil title with 7.9 million units, and the second best selling Capcom title of all time.
Now of course, these numbers apply to single releases — they are not taking into account ports, remasters, re-releases, director's cuts, etc etc. Resident Evil 7 only has its original 2017 release to generate these numbers, currently available on Xbox One, PlayStation 4, and PC. It did do a very brief stint on Switch as a stream-able game, but only in Japan, and it's unlikely it got much revenue. There's no way that Resident Evil 7 doesn't re-appear on PS5 and Xbox Series X/S, so I imagine that number will probably shoot up by quite a lot. Adjusting the sales of the other titles to include all of their releases, Resident Evil 5 actually still retains its original place as best selling RE and second best selling Capcom game:
Went and combined all of the Resident Evil SKU's (Combined if they weren't a remake).

With the new data on RE4, it's now the second most selling RE (Used to be lower due to lack of data).

It's crazy how much the series sells #REBHFun pic.twitter.com/D1rR2wJEeZ

— Jawmuncher (@Jawmuncher) August 14, 2020
That adjustment is actually pretty surprising, considering things like Code: Veronica and Operation Raccoon City (a fan favorite, and a game pretty much everyone hates) are more or less tied. Of course, we haven't even talked about the most recent games; Resident Evil 2 Remake is catching up insanely fast to Resident Evil 7, probably only about a year (or less, if it gets ported to next-gen, which it absolutely will) away from taking it over. It's nice to see more traditional, horror-oriented RE experiences overtaking the action ones finally. Nothing against fans of RE5 and RE6, but as a fan of the classics it's fun to see the new games get rewarded for trying so hard. Resident Evil 3 Remake is also on the list.
It'll be interesting to see how Resident Evil 8: Village fairs when it releases next year. With Covid still Trumping every attempt to live a normal life (in the States at least), who knows how the title will be affected at launch if it's not delayed. That said, everyone being inside and bored probably helped Resident Evil 7 over this last little hump so hey.