With Capcom's Showcase Stream set to premiere on Monday, there's been a lot of buzz and speculation about what all could be revealed during it. While we already have confirmation that we'll be getting new info on Resident Evil 4 Remake, but there's still a ton of other Resident Evil content that we have yet to receive updates on. Resident Evil RE:Verse (which has now been delayed over a year), Village's DLC (which will have been announced a year ago this coming Tuesday), and of course the current-gen graphics update to Resident Evil 7, Remake 2, and Remake 3. Looks like at least one of those could be in the cards thanks to a recent Steam patch notes update that was published yesterday. All three titles received a new notice that the system requirements would be changing in order to accommodate the upgrade patch (which applies to PC as well as consoles). Here's an example of what REmake 2′s update says: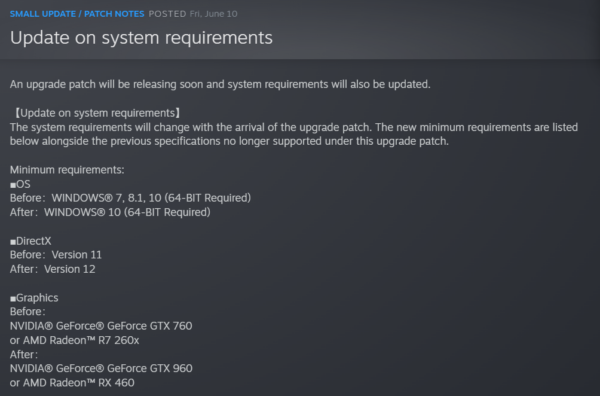 I'll admit, I don't really know enough about PC stuff to be able to accurately comment on the changes here, but they do seem to be a bit of a leap. The update does seem to be worth it though, given the bounty of enhancements that come with it, including "ray tracing, high frame rate and 3D audio to enhance the immersion of the award-winning experiences". PS5 owners have the added bonus of DualSense support for Haptic Feedback and Adaptive Triggers (looking forward to the haptics especially, they're super fun in everything on PS5).
We still don't have an official release date for this upgrade, but the Steam update insinuates it won't be too much longer now. Fingers crossed we might get a shadow drop during Capcom's Showcase Stream (along with maybe Re:Verse). We'll keep you posted!