Rely On Horror Presents the 2018 Retro Horror Charity Livestream!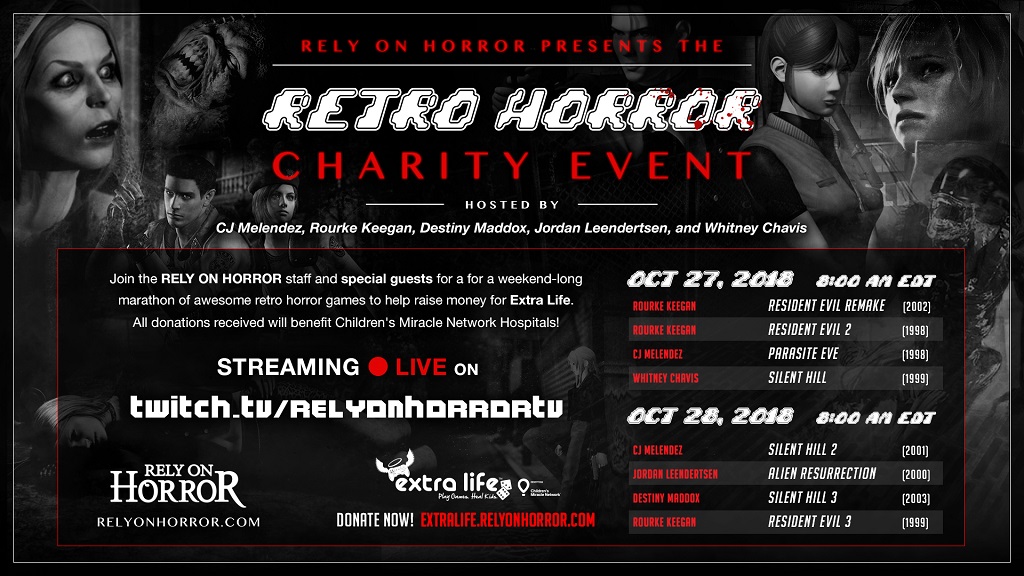 It's back, and it's leaner and meaner than ever. This year Rely on Horror will once again take to Twitch to raise money for Extra Life, a charity benefiting Children's Miracle Network hospitals. We're going retro by playing several classic horror games from some of your favorite series. Resident Evil? We got it. Silent Hill? We've got that too and some more!
Join RoH staffers Rourke, Destiny, Jordan, Whitney, myself, and to-be announced special guests as we chat and play through the following games the weekend before Halloween:
SATURDAY – OCTOBER 27 @ 8AM EDT 
Resident Evil 1/ Remake 
Resident Evil 2
Parasite Eve
Silent Hill 
SUNDAY – OCTOBER 28 @ 8AM EDT
Silent Hill 2
Alien Resurrection
Silent Hill 3
Resident Evil 3
The charity livestream begins on October 27th at 8 AM EDT and will end the evening of October 28th (or later depending on playtime). The event will be livestreamed through its entirety on the Rely on Horror Twitch.tv channel. Subscribe and set a reminder today to make sure you don't miss out!
How to Donate:
Please visit extralife.relyonhorror.com or use the widget below to donate to the Retro Horror Charity Livestream, benefiting Maria Fareri Children's Hospital at Westchester Medical Center. You may donate now ahead of the stream to give us a head start or while we're live so we can say thank you! Our fundraising goal is $1000.00! Help us help those in need!

Bookmark this page as we'll be updating it with additional info, a list of confirmed special guests, and more!
Special Guests:
Jeff Bartrom – Mixer Streamer: doccupcake, Crackdown 3 Agent
Vikki Blake – Journalist (Eurogamer, PC Gamer, MTVUK), Silent Hill Heaven owner
Watch live video from RelyonHorrorTV on www.twitch.tv