RE2 and DMC5 Win Big at Golden Joysticks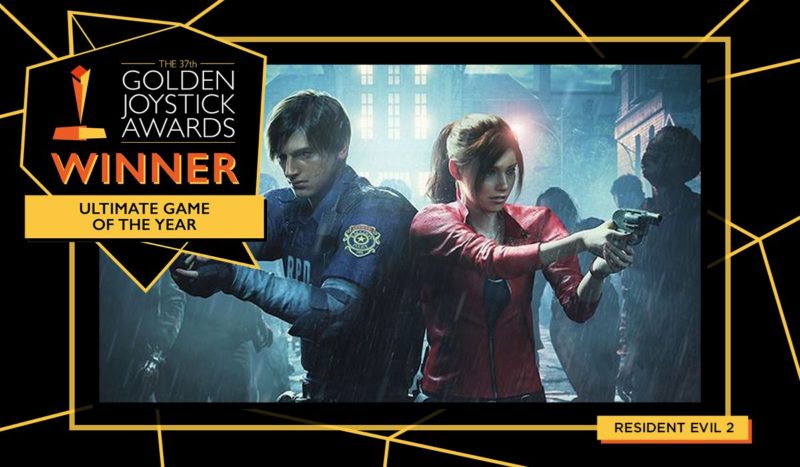 While it may come as no surprise to many of you, it turns out making really good games is a great way to get awards. Capcom has won big at this year's Golden Joystick Awards, as Resident Evil 2 and Devil May Cry take home some awards — including the ultimate prize. To start with, DMC5 won Best Visual Design, a title well earned by the distinct visual flair and attention to detail brought to the series by the team behind the latest entry in the demon hack and slasher series. This is the first award on this scale (as in awarded by a major ceremony) the franchise has taken home, although DmC: Devil May Cry was nominated for Best British Game and Best Action Game at the BAFTA Game Awards and Dice Game Awards respectively, according to IMDB. So congratulations to the DMC5 team — you rocked! RE2, the 2019 remake of the 1998 classic, took home a much bigger award, however.
To start with, RE2 won for Best Audio — and anyone who's played can attest to the sheer master class RE2 presents in the audio department. Whether it be the quiet, still ambiance of the RPD front hall, or the chilling echoing thumps of Mr. X's footfalls as he stalks you across the station, RE2 delivers the sound of high anxiety like nothing else has in quite some time. That said, the real trophy here is RE2 being awarded Ultimate Game of the Year, which is a massive accomplishment and something that the entire team behind this incredible game can be proud of! The Resident Evil franchise has not taken home the award for Game of the Year since 2005's Resident Evil 4 — yes, even 2017's Resident Evil 7 didn't win GOTY from any major awards shows (although it won from us).
Congratulations to Capcom on this, and here's hoping they continue to win big in a year full of great titles! Geoff Keighley's The Game Awards nominees are to be announced this coming Tuesday, and we'd be very surprised if Resident Evil 2 wasn't up for an award or two — including Game of the Year. Of course, that's assuming that Geoff doesn't pull some strings for Kojima-senpai.
Other horror games also managed to snag a few awards as well: Remedy's Control took the Critic's Choice Award, while Gears 5 won Xbox GOTY. and SIE Bend Studio's Days Gone won PlayStation GOTY and Best Storytelling. Congrats to all of this year's Golden Joystick winners, we hope you continue to win big throughout the rest of this year's awards shows!