RE: Revelations & Revelations 2 Getting Retro-Style Mini Games on Switch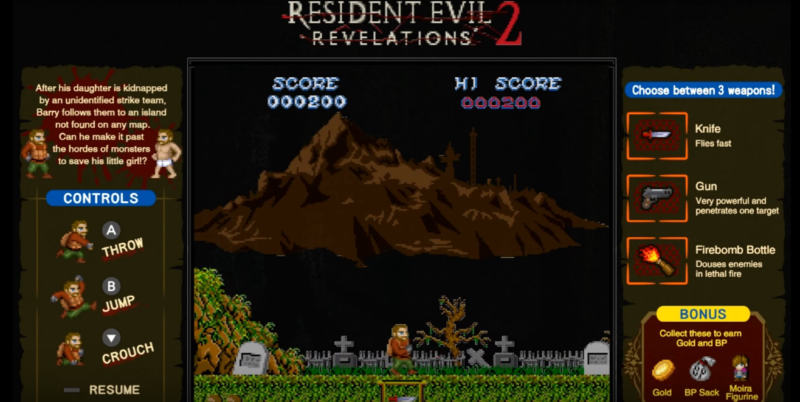 If I didn't already have enough reasons to want to pick up the Switch versions, Capcom's gotta keep piling more on!
Announced today via two short trailers on Resident Evil's YouTube page, the Nintendo Switch versions of Resident Evil: Revelations and Revelations 2 are going to be getting a new retro-style mini-game apiece. These two bonuses are completely exclusive to the Switch versions, and while they don't look particularly involved, they do look like a lot of fun. Plus, playing them will reward the player with BP, which can be spent on additional weapons in both game's Raid Modes.
For the first game, we'll be getting a top-down verticle shooter called Ghost Ship Panic. It's not high octane or anything, but it's cute seeing the little 8 bit Jill peck away at little Ooze and Rachel sprites. It's the least interesting of the two, sadly, but I bet it will still have it's fans.
For Revelations 2, we get a nostalgic blast from Capcom's past, with Ghouls 'n Homunculi, which is basically a modded version of the first level of the original NES Ghosts 'n Goblins (or Ghouls 'n Ghosts, it's been re-released so many times). This looks a lot more fun (at least in my opinion), and features a chibi 8-bit Barry gunning down Revenant. He even gets his clothes blown off and has to run around in his briefs when hit, just like poor Arthur. Oh, and the Ghosts 'n Goblins styled remix of Revelations 2's menu theme is to die for.
Revelations 1 and 2 release on Nintendo Switch November 28th. You better believe we'll be reviewing them.
[Source]