Kinetic Games has a vested interest in making sure that Phasmophobia keeps players on their toes. Last year's Maple Lodge Campsite map, which also came with a new nightmare mode for the more masochistic investigator, was a welcome addition to the list of spooky locations. Of course, it wouldn't be Phasmo without all those lovely ghosts to hunt, and the studio just keeps bringing them in.
This latest update, which is being referred to as the "Truck Overhaul" patch (though you can call it "v.0.6.2.0" if you like) has just started rolling out on Steam, and, as the name suggests, it changes up the truck. It adds in some new models, tweaks the layout, and also removes the metal shelves that all the equipment is on, replacing them instead with wall mounts.
Most important, perhaps, is there are now three new Phasmophobia ghosts for players to go looking for. They are the Deogen, Moroi, and Thaye. These aren't spectral beings that I've personally heard of, but as Kinetic adds more into the game, inevitably there's going to be some more obscure ones, different from the standard spirit or poltergeist.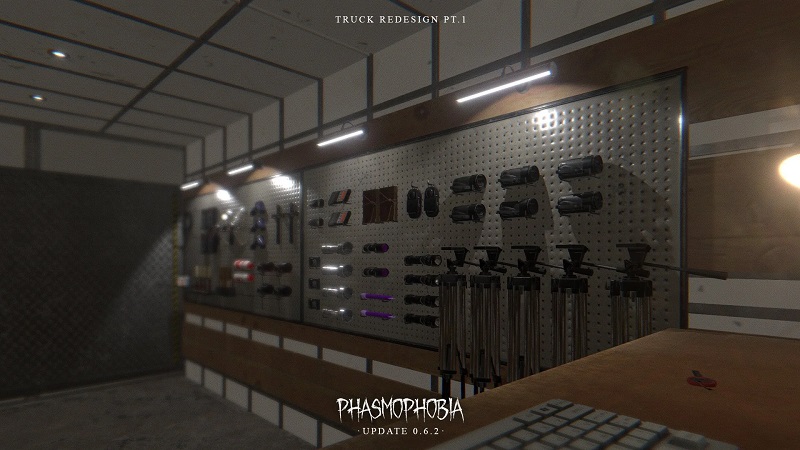 There's been some quality of life changes as well, which includes tweaking the voice recognition mechanic. Doing away with the Windows speech system, it means the game now supports a lot more languages, and is even compatible on the Steam Deck, according to the patch notes. In fact, you can read all the updates by going to the Steam post here.
It's great to see Kinetic keeping the fan base happy with all these changes and additions to Phasmophobia. It would be nice for the team to add in some extra maps, but there is talk of them making changes to the asylum, so that will be something to look forward to. In the meantime, players are encouraged to work out what's going on with these new ghosts, as the patch notes aren't wishing to give away any spoilers.