NISA opens preorders for Danganronpa Another Episode Limited Edition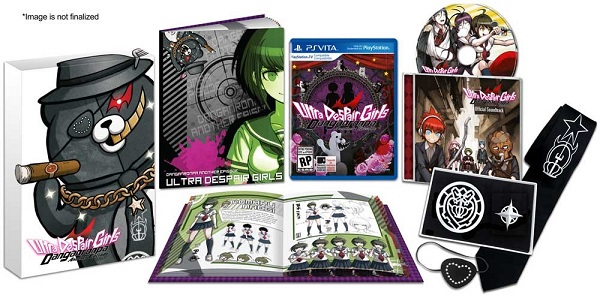 Let me confess this now: I preordered the crap out of this thing before reading about all of its contents. Am I a crappy consumer? Maybe, but I know I've wanted to preorder this for a long time.
Anyway, NISA has today opened up preorders for the Limited Edition (and standard) release of Danganronpa Another Episode: Ultra Despair Girls for the PlayStation Vita, aiming to release this Fall. Look at it. It has a gangster Monokuma (Kurokuma) with bling and a cigar. Come on!
For $64.99, buyers of the Limited Edition will get the following:
– Danganronpa Another Episode: Ultra Despair Girls (PlayStation®Vita)
– 32 page, soft cover art book
– 15 track, single disc original soundtrack with jewel case
– Collector's box
– Bonus Item #1: Warriors of Hope & Kurokuma Set Box (Includes: 4.5″ Diameter Tie Clip, Warriors of Hope Pin)
– Bonus Item #2: Kurokuma Tie
– Bonus Item #3: Kurokuma Eyepatch
In case you missed the news earlier, Danganronpa Another Episode: Ultra Despair Girls is an action spinoff of the visual novel series. Set between the two main-line games, Another Episode touches upon what's going on in the world outside of the class trials. To say any more would spoil the fantastic story this series has devised. If you haven't already, definitely check out our reviews for Trigger Happy Havoc and Goodbye Despair. Play these games ASAP.
Now all we need is for XSEED to announce a physical release of Corpse Party: Blood Drive and I'll be set with more cute-anime-kids-getting-brutally-killed games than I can handle.
[Source]