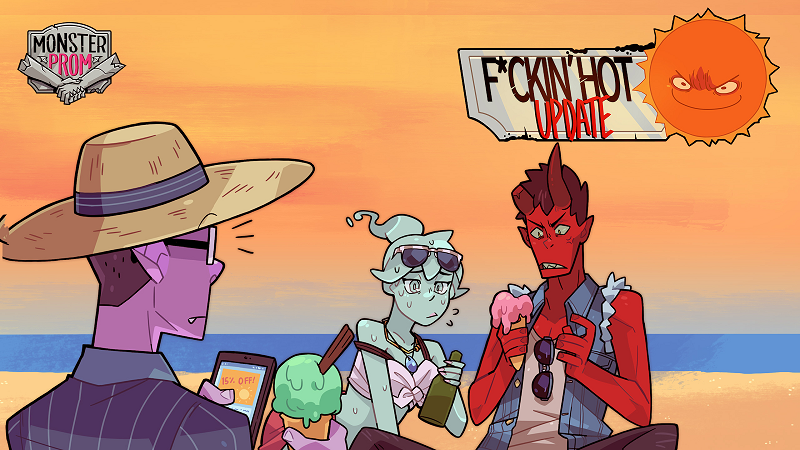 Crazy-fun dating sim Monster Prom got a big update today. Appropriately titled "F*ckin' Hot," it focuses on summer heat and hot-as-hell demon boy Damien.
Monster Prom isn't just about dating — it's filled with events, secret endings, weird items, and clever writing. Adding to the insanity, you can play with friends either online or locally. Want to fight for Polly the ghost? Go for it — she keeps turning me down.
You have three weeks to woo one of six monstrous love interests. Pick up the game on Steam or learn more about it at the official site.
New features in the "F*uckin' Hot" update:

Seasonal Outfits: Monster Prom's chic monster roster is all about those summer vibes. Consequently, the former outfits have been packed away for chiller times. Say hello to Hawaiian prints, sun hats and dresses and all those sweet, sweet sandals.

A new secret ending: As a result of the Bae Ballot contest held earlier this month, crowd favorite demon boy Damien is getting a new secret ending, as promised. No spoilers but let's just say it's really going to bring the heat.

New Cafeteria Map and Weekend Events Screens: The Cafeteria Map got a makeover, making it prettier and more inviting for all the monster mischief. The Weekend Events also got the eye-candy treatment, with bolder colors and more details added to the background.

Photo Gallery: At the community's request, this update will also mark the debut of the Monster Prom Photo Gallery – a place for collecting all those endings that played so hard to get, plus some nifty new surprises.

Steam Trading Cards: Just when you thought this competitive dating sim couldn't get any more competitive, the dev team is adding Steam Trading Cards! There are also background images, custom emoticons and other shiny trinkets for the community to crave impulsively.