Metro Exodus Celebrates Two Years With Graphical Updates Aplenty
Two years ago to the day, Deep Silver published Metro Exodus, the third entry in the Metro series. To celebrate its birthday, the publisher and developer (4A Games) have announced they will soon release an enhanced version of the game for PC (aptly named Metro Exodus PC Enhanced Edition), as well as introducing new graphical tweaks for the new-gen console versions.
4A Games posted a tweet earlier with a link to more details about what's coming. Among other things, Metro Exodus will run at 4K / 60FPS with full Ray Tracing capabilities for both the PlayStation 5 and Xbox Series X|S ports. They've also said they want to put focus on some in-game improvements as well, such as "the ability to change FOV for the first time in a Metro game."
As for PC users, it too will receive some nice visual enhancements, including expanded Ray Tracing across the whole game, as well as support for DLSS 2.0 for those with NVIDIA hardware. You can see the full list of improvements in the image below.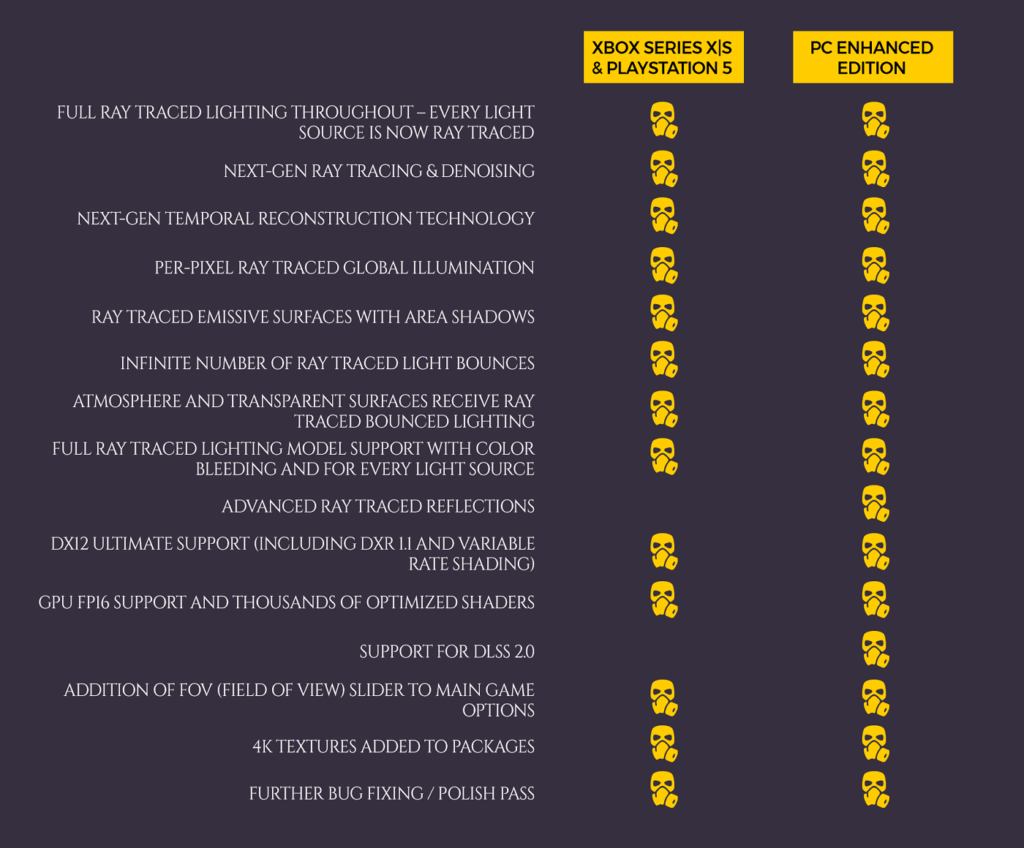 (Source)
As for non-Windows people, last year 4A promised ports for both Mac and Linux users, and now it appears they're looking to fulfill that promise.
We're happy to confirm that the Mac version is expected to release on the Mac App Store, Steam, and Epic Games Store in March, with the Linux version set to follow a little later in the year on Steam!
It was just last year that they celebrated ten years since the launch of the first Metro game, Metro 2033. While two years for Exodus doesn't sound like a milestone, it does seem to have given them the pretext to start making announcements about the Enhanced Edition. The game itself was already well-received in reviews, so the extra polish and the above graphics tweaks won't make the game any better, but they will be a nice touch.
Happy birthday to Metro Exodus! To celebrate it together, we announce the Metro Exodus PC Enhanced Edition, reveal more details about new RT features for next gen consoles and PC, and give more info on Mac and Linux versions?

See more at https://t.co/lxW1Ot7b01#4AGames pic.twitter.com/31n5ZFMwoG

— 4A Games (@4AGames) February 15, 2021