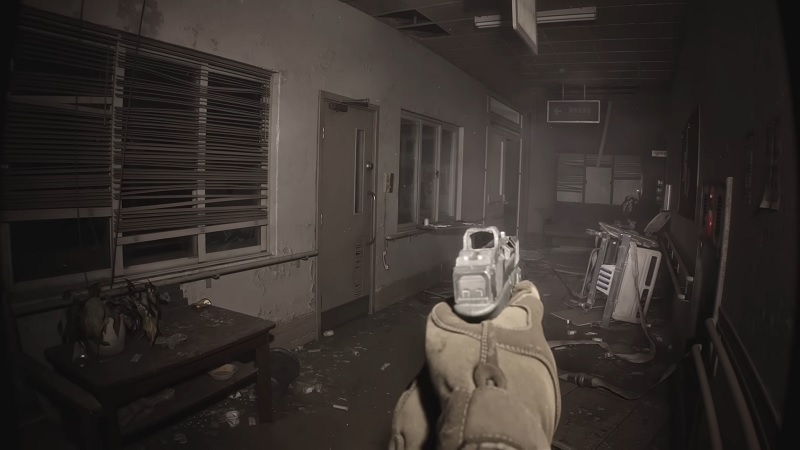 Many of you will remember the buzz around Unrecord, the SWAT-style FPS game that garnered huge attention with its photorealistic visuals. Turns out that's not the only game that's going for über lifelike visuals, as a teaser for indie title Lost Fragment was recently unveiled.
Coming from an obscure developer known as Nihil Inane Studio, a recent teaser for Lost Fragment gives a brief overview of how mind-bogglingly realistic the game looks. The brief footage on YouTube shows a first-person perspective of someone walking down an abandoned hallway, possibly in a hospital.
With gun in-hand, this mysterious player encounters unsettling sounds and a feeling of loneliness. Then the game's title is revealed.
[UE5] – LOST FRAGMENT – 失われた欠片

Survival Horror game in @UnrealEngine https://t.co/yVfGN9r953 pic.twitter.com/eYYrJC01nP

— NIHIL INANE (@NIHIL_INANE) August 29, 2023
That's all we're getting for now, it seems. The studio doesn't mention anything about it's about, when it's releasing, or which platforms it'll be available on (or even if it's a game at all). All we know is this survival horror footage was developed in Unreal Engine 5. According to the video description, everything was made "by hand" with "no photogrammetry."
It looks pretty spectacular, and if you thought the style of P.T. was impressive, Lost Fragment shows just how advanced video game graphics can get.
In any case, we'll be keeping a close eye on what Nihil Inane Studio is hopefully going to be bringing us. As we say, we know practically nothing about the project except for what's been show in this 55-second clip. Even the developer itself remains pretty much a mystery, with barely any presence on social media.
Don't forget to check out the footage from Lost Fragment below.