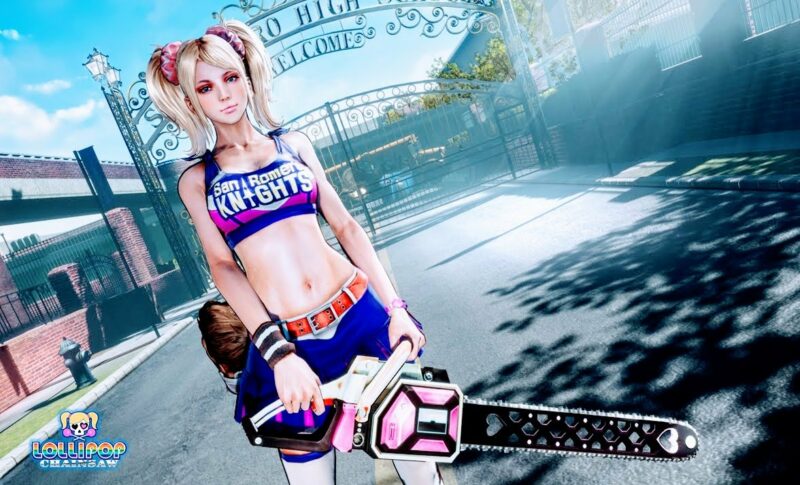 Announced today by Dragami Games, Suda 51's pop action slasher Lolipop Chainsaw is getting another moment in the sun with an all-new remaster, led by the original producer Yoshimi Yasuda. Being built with the support of original co-publisher Warner Bros. Interactive Entertainment, this remake will be taking advantage of current-gen hardware in order to crank the most out of the experience. Including a "more realistic approach to graphics" (presumably as opposed to the original Lolipop Chainsaw's half-tone pop art look, although hopefully, they leave the filter as an option) and sadly the removal of the original score due to licensing issues (presumably on behalf of co-writer Jimmy Urine, who did the boss tracks). No word yet on if co-composer Akira Yamaoka (Silent Hill, Shadows of the Damned) will be lending his talents to this new score, although they have confirmed that a few licensed tracks from the original will be present (fingers crossed for Empire State Human, a favorite of mine). Check out the full statement from the producer via Twitter:
Lollipop Chainasaw Remake の発表に関する Producer message をお届けします…!!!
Please check Producer message about Lollipop Chainsaw Remake.#lollipopchainsaw#ロリポップチェーンソー pic.twitter.com/ILeLTKNVZ3

— 安田善巳 (@yasudaD5) July 5, 2022
I'd reviewed the original release back in 2012 for Xbox 360 (giving it a 6/10), where I was a spry chick of only 20, so I'm curious to see if the combination of my wisened years and the updated remake will change my opinion for the better. Even at the time, I suspected that Lolipop Chainsaw was bound for cult status, and I'm happy to see that I was right. We'll keep you updated as it's brought back to life, and hopefully, we'll get a trailer sooner rather than later!