Little Nightmares II: Enhanced Edition, Free Next-Gen Update Released
Little Nightmares II has released a free next-gen upgrade for anyone who owns the release version of the game. The sequel to the much acclaimed Little Nightmares, Little Nightmares II is now available in an Enhanced Edition for the PlayStation 5, Xbox Series X|S, Steam, and GOG. The announcement came via the game's Twitter account.
In the horror-suspense-adventure title, you follow the first game's mysterious protagonist Six alongside the even more mysterious Mono and maneuver them through a nightmare-riddled world of dread and darkness.
A deeper dive into your darkest dream. It'll be harder than ever to pull yourself free.

Little Nightmares II: Enhanced Edition is available now for #PlayStation 5 #Xbox Series X|S, and #PC Digital via #Steam and #GOG. https://t.co/apn7fbiPIK pic.twitter.com/a96sjSqlt2

— Little Nightmares II (@LittleNights) August 25, 2021
Enhanced Edition features include:
Ray-Traced Reflections let you see live reflections in shiny surfaces throughout the game, like the cold, damp tiles of the Hospital wards or the dull glass of a deactivated TV.
Improved Volumetric Shadows add even more depth and detail to every object and enhance how rays of light are interrupted by moving objects, like the Hunter ripping away at his prey in front of his boarded-up workshop window or the Doctor tending to his patients under a swinging ceiling lamp.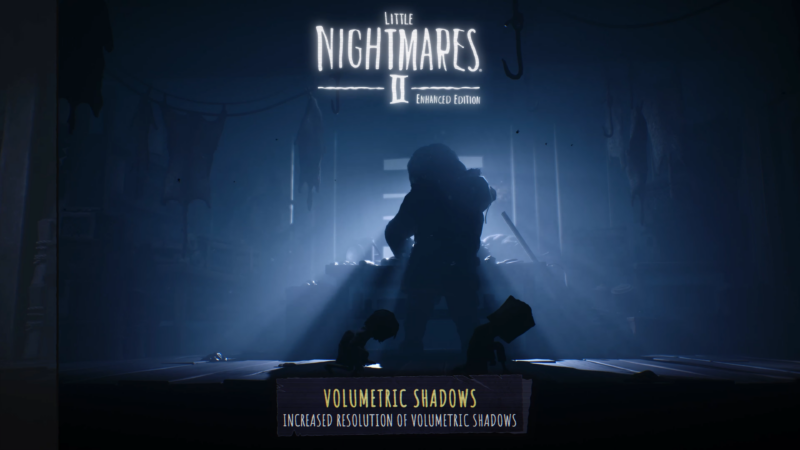 Interactive Particles dance and swirl realistically through the air as characters move through a scene. It's so evocative you might almost feel the need to sneeze when landing on a dusty rug in the attic or flinch when motes of burning ash spills through a furnace vent.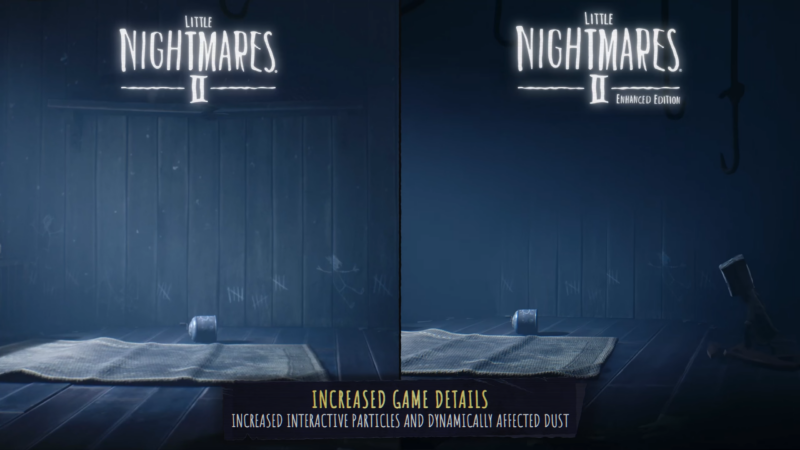 Immersive Audio wraps you in a three-dimensional soundscape if you're using 5.1 or 7.1 speakers or headphones. You'll hear each echoing swat of the Teacher's ruler getting closer and closer as you creep through the School's air ducts and track the clatter of hordes of Patients as they snatch at you from the dark.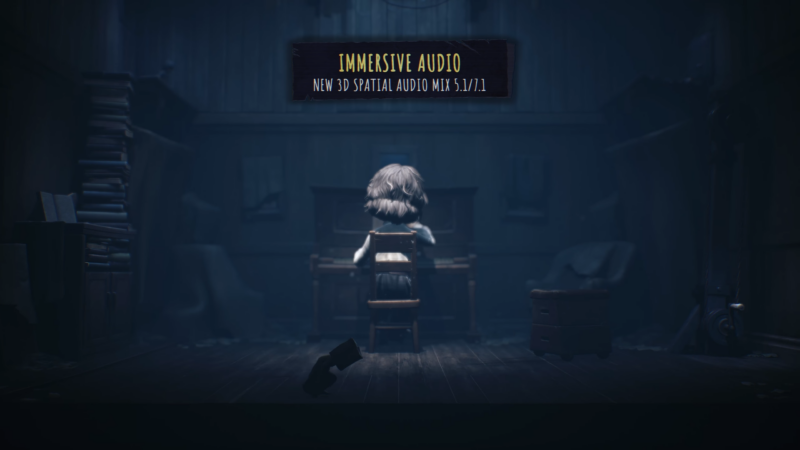 As has become the norm, the console versions will allow you to choose between two different modes. Beauty Mode will lock the resolution at 4K while limiting the frame rate to 30 FPS, while Performance Mode will deliver 60 FPS and adjust resolution dynamically (up to 4K) to sustain that frame rate.
The game was pretty before, but now it looks even better thanks to all the improvements implemented in the Enhanced Edition. If you've never played any Little Nightmares title, now's a good time to dive in.
For more information on how to upgrade your copy of Little Nightmares II, read this post's info under "How can I get the Enhanced Edition?" You can also check out a high-resolution version of the trailer below.