Legacy of Kain: Dead Sun looked awesome, Nosgoth gets detailed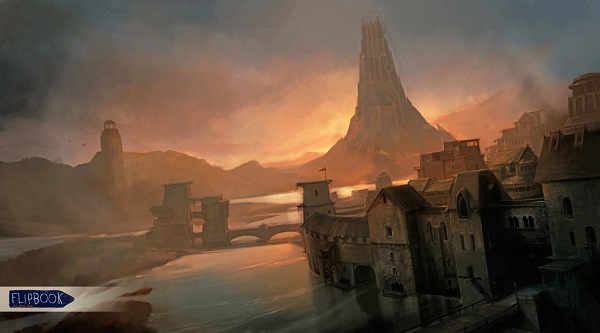 NeoGaf user and Legacy of Kain development sleuth Mama Robotnik is back at it again with more details on the unfortunately canceled PS4 launch title, Legacy of Kain: Dead Sun. Robotnik was able to find four different videos of the canceled Climax Group title on portfolio sites. The videos show off the game's interface, animated menus, the upgrade system (with such powers as "wings", "morph kill", and "cross-realm vision"), and cinematics showing the conception and development of a vampire child.
Also discovered were images from UK concept art company FlipBook Studios' website. FlipBook quickly removed the images of the cancelled Dead Sun, but the public was able to save all that was found and share it. Which is both lucky and unlucky for us, because it just makes the cancellation of Dead Sun all the more bitter and saddening. Images of characters and locations can be seen. One location even shows the Silenced Cathedral from the original Soul Reaver game. Dead Sun's story was to take place centuries after Soul Reaver, in a world post-Kain and Raziel conflict. Revisiting familiar locations seemed likely based on the details that Robotnik and friends were able to scrounge up.
With the help of Monkeythumbz, Community Manager for Square Enix, new images and details on the cancellation of Legacy of Kain: Dead Sun were provided. Mokeythumbz had this to say about the cancellation, "I can confirm that Dead Sun was a project which had been in development – but which was cancelled.
"I know it's disappointing to hear about these things out of context, and whilst some of the details released are accurate – some details are not. You know game projects can be cancelled for a variety of different reasons and I know it's very hard to tell from images and info alone, but in the end LoK: Dead Sun just wasn't the right game, at the right time… but you'll have to take me at my word on that, I'm afraid."
Monkeythumbz then disclosed some details and enthusiasm for the upcoming LoK title Nosgoth in a Q&A on the Eidos forums. For starters, the game will be strictly online as a competitive multiplayer game. It will take place during a the age of a corrupt Nosgoth, where Kain and Raziel reside (but will not appear in the game). Vampires will be playable and the game is so far just confirmed for PC. Monkeythumbz compares the style of the game to Unreal Championship 2. More details can be found after the jump.
In an alternate universe, these Legacy of Kain games would switch places. I know that may seem a bit harsh, but fans have waited a long time for a proper singleplayer entry in the Legacy of Kain series. Nosgoth may very well be a good game, but it's fair to say that it's probably not going to scratch that itch that fans have had since Defiance. Hopefully Square Enix will one day reconsider the viability of the series and pursue a true successor to the lore-filled story of the Legacy of Kain saga. Until then, we'll have to see what Nosgoth is all about when it is officially revealed.