E3 2018: Killing Floor 2 Clowns Around in Summer Sideshow: The Treacherous Skies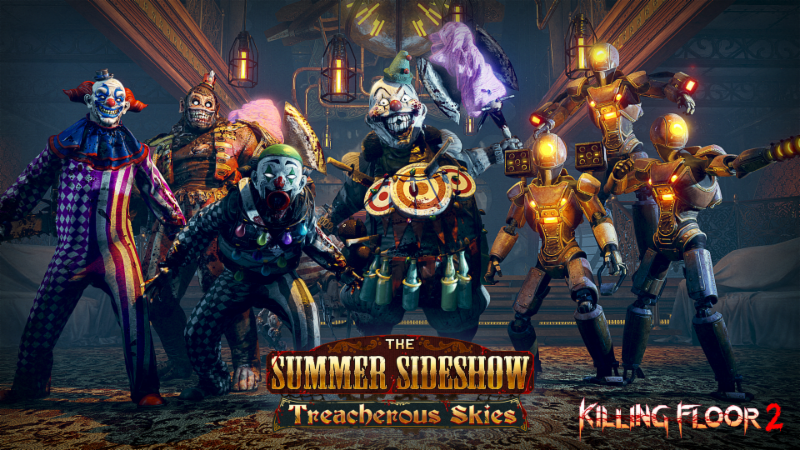 Has anyone ever actually seen the devs at Tripwire sleeping? At this point, we have to accept the possibility that they may not be human. Nonstop content updates and new games released at a steady pace over the last few years make one wonder. Their latest announcement is a Killing Floor 2 DLC titled The Summer Sideshow: Treacherous Skies. If steampunk clowns are your thing, you're going to be thrilled with this update.
As is quickly becoming tradition for Killing Floor, this is a huge content package. A new campaign map, Airship, has players guide Lockhart through the command airship, achieving increasingly difficult objectives to help him find his way home. A fan-made community map, Endless Lockdown, is also being made available as part of the release. New weapons include the M99 AMR, Static Strikers, Doomstick, Goreshiv Survivalist Knife, as well as an upgrade system to allow players to make any weapon they like work for their end-game enjoyment. Joining the current lineup is Mrs. Foster, a new playable character voiced by Claudia Black.
The Treacherous Skies follows Lockhart's escape from Steamland, but carnie Zed have made it aboard the steamship. Carnage ensues, with nary a tophat making it out alive. Alongside the killer klowns from outer… wait. Wrong title. Homicidal robots come along for the ride to clown around with their favorite Zed, bringing creepy new faces to exciting new places. The entire charade is hilarious fun, giving players an excuse to keep coming back. Killing Floor 2 The Summer Sideshow: The Treacherous Skies will be available tomorrow, but players meandering around E3 this evening can stop by the Tripwire Interactive booth for an early look at the update.