Here's Another Look at Metro Exodus' NVIDIA RTX Lighting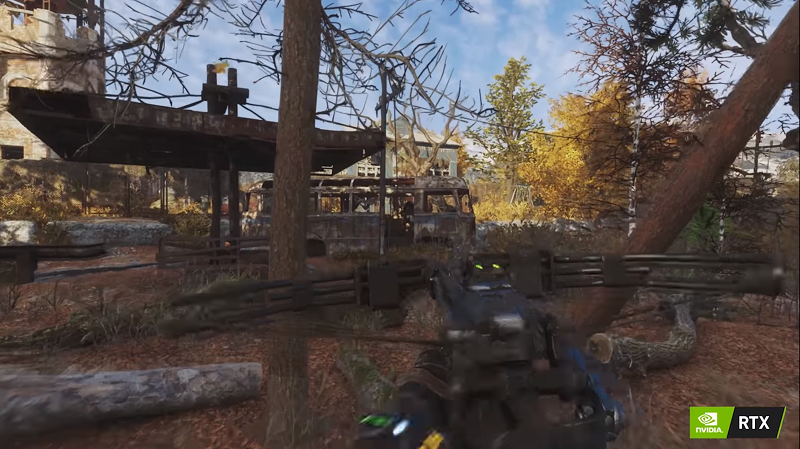 The Metro games have always featured bleeding edge visuals upon their release. Metro 2033 and Last Light were — and still are thanks to their Redux remasters — gorgeous games. With the imminent release of NVIDIA's GeForce RTX graphics cards, developer 4A Games integrated Ray Tracing support to push the graphics of the upcoming Metro Exodus. Fellow horror game Atomic Hearts will support the new RTX tech as well.
Today's six minute overview of Metro Exodus focuses on the game's environments rather than gameplay, in footage that's been captured running on a GeForce RTX 2080 Ti. Various scenes are shown with and without NVIDIA's ray tracing technology activated, which displays just how the new lighting system compares to 4A Games' previous solution. For fans itching to see more of the game, the demonstration showcases a woodland area set in the mountains. Multiple abandoned structures can be seen, suggesting Artyom won't come across any humans — likely something else. Rely on Horror writer Momoka wrote about her experience playing roughly in this same area during her PAX West demo here.
The short version is that ray tracing allows for natural lighting, meaning light diffuses even out of the line of sight of traditional light sources. When utilized, 4A Games is able to retain visual information from objects and surfaces obscured from direct lighting sources. Global Illumination essentially makes the sun (or in-game lighting sources like lamps) the only true light in the environment, eliminating the need create invisible lighting sources to help the player see in low-lit areas.
It's all very pretty if you can afford upgrading to NVIDIA's new line of GPUs. Will you be for the sake of the best-looking horror game experiences? Let us know in the comments.