Haunts goes open-source
Have you heard about a Kickstarter project called Haunts: The Manse Macabre? This game was going to be a turn-based horror game in which one team plays as the monsters and the others as the survivors, similar to versus mode in Left 4 Dead, but turn-based and not first-person. The developer "Mob Rules Games" submitted the project to Kickstarter, claiming they had spent a total of $42,500 on the project already and needed only another $20,000 to see the game made. The Kickstarter goal was set to $25,000, which was officially collected on July 6 2012. After reaching the original goal, the studio set up new goals where every additional 1000 dollars would mean another type of character would be added to the game. In the end the project garnered a total of $28,739, which is an average of nearly $24 per backer. A success story, right?
Sadly this was not the case, as on October 18 the studio announced that the future of the project was unsure. The programmers working on the game left the studio to pursue other goals, leaving the rest of the staff with a near-finished version of the game. With nobody able to make progress on the game, it would seem logical to hire new staff, but this too was difficult. The game used a very obscure language for the code, so very few people were able to work with it. In what I assume to be an attempt to prevent an outcry, studio head Rick Dakan promised refunds to any backer who wanted one. This initially seemed to me like a very sad end to what could have been a great game, but just yesterday this story took another twist. Many people offered to help out Mob Rules, and the Atlanta-based studio Blue Mammoth Games also offered to make the game happen. Yesterday, Rick Dakan officially announced the game would go open-source and that more than thirty programmers displayed interest in working on the game. Currently Mob Rules is busy setting up an infrastructure to make this happen, but it seems like Haunts: The Manse Macabre is not quite dead yet. In fact, its' future seems brighter than ever.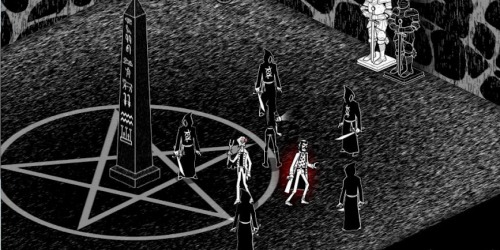 Personally, I am still convinced that there'll be a Kickstarter project that goes horribly wrong or turns out to be a big fraud very soon, but I am also glad that Haunts didn't turn out to be that project.