Publisher Wired Productions and Swedish horror game developer Angry Demon Studio have announced that their cuddly skate 'n' slash title Gori: Cuddly Carnage is coming to Switch, PlayStation 4, PlayStation 5, the Xbox family of devices, and PC in 2023.
Developed in Unreal Engine 5, Gori: Cuddly Carnage is a third-person hack 'n' slash adventure set in a twisted, neon-lit futuristic world of killer mutated toys.
In the game, you play as Gori, an ultraviolent feline hero on a death-dealing hoverboard who's on a mission to save the cuddly crew from certain doom.
John Kalderon, CEO at Angry Demon Studio said:
We're thrilled to announce that our lovable hero, Gori, is kick-flipping his way to consoles in 2023, which we hope is meow-sic to everyone's ears! We hope gamers enjoy the brand-new trailer and discover more about the intense hoverboard combat in our adorable, yet deadly world!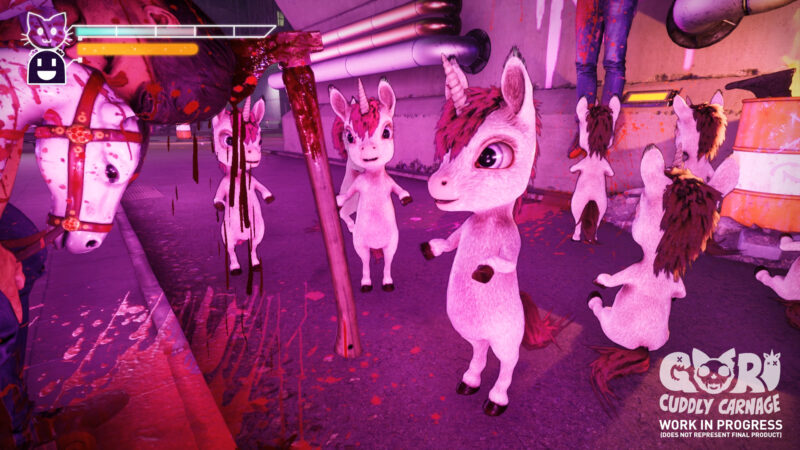 Features:
Fast-paced, third-person skate-and-slash carnage.
A futuristic world tainted by the Adorable Army.
Immersive (and very cute) environments.
Adaptable music that reacts to your actions and play style.
Intense destruction, brutal combat, and a whole world to smash to bits.
Gori: Cuddly Carnage will be released on PC, Nintendo Switch, PlayStation 4, PlayStation 5, Xbox Series X|S, and Xbox One sometime in 2023.
For more information, you can visit the game's official website here, follow on Twitter, join the official Discord, and wishlist the game on Steam.
A new demo is available today as well as a brand-new platform announcement trailer, which you can watch below.