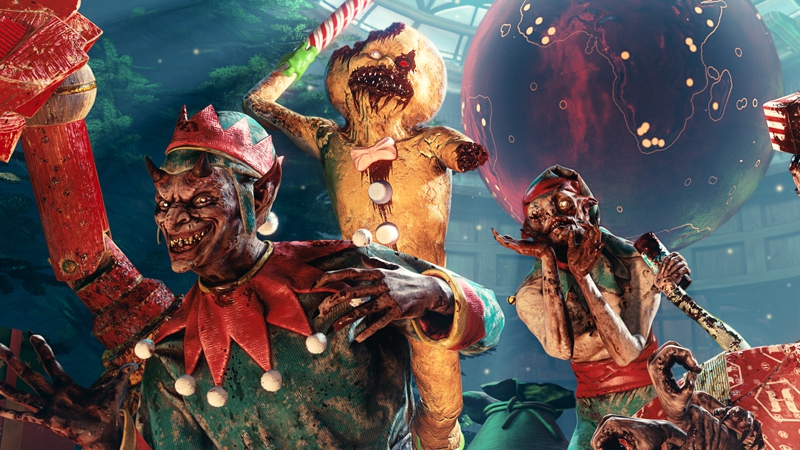 Tripwire Interactive's Killing Floor 2 has found tremendous success in the two years since it's launch, delivering one of the best horde-based shooting experiences on the market. Like any modern multiplayer game, Tripwire has kept players coming back through a combination of regular updates and seasonal events, and this year's holiday event, titled Twisted Christmas: Season's Beatings, will be giving Killing Floor 2 fans a very special gift: Gary Busey.
Yes, Gary Busey of Under Siege and Gingerdead Man fame will be coming to Killing Floor 2 as the playable character Badass Santa. The Twisted Christmas: Season's Beatings update is being touted by Tripwire as one of the largest Killing Floor 2 events yet, and also comes with new maps, weapons, and a new voice for the trader, all of which will be free for players during the event. Badass Santa must be purchased, however; the ability to play as Gary Busey is not given freely. You understand.
To announce this festive collaboration, Tripwire has revealed a short video starring Busey on their YouTube channel, which you can view down below.
In addition to these yuletide tidings, Tripwire has also announced that Killing Floor 2 has surpassed 3 million units sold across all platforms. While I myself am not the biggest fan of Killing Floor 2 or horde-based shooters in general, it's good that Tripwire's hard work has paid off in such a big way, and the game's dedicated fanbase should ensure crazy events and updates like this for a good while longer.
Fans interested in the Season's Beatings update are advised to keep an eye on the game's Steam Page for further announcements and a beta. We gave Killing Floor 2 a 6.5 in our review, which you can check out right here.