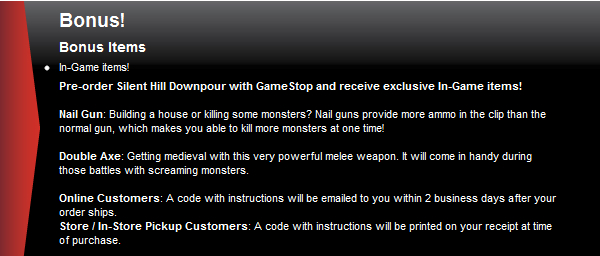 Exclusive Silent Hill: Downpour preorder content will be available at Gamestop. So far, it appears that only Gamestop is offering some type of preorder incentive.
The content includes two bonus weapons: the Nail Gun and the Double Axe. The Nail Gun seems to have a lot of ammo, while the Double Axe is a freaking double axe. No image of these weapons are available just yet but that may be due to the listing being fairly recent.
Some of you may know by now that I'm not a fan of store-specific DLC. I think it's unfair to limit the content in a game simply because of where it was more convenient for someone to buy it. Sure, it's just two weapons, but it's still a bit annoying. Let's see if Amazon or Best Buy gets their own exclusives as well within the coming days.
[Source]