For you graphic whores: Splatterhouse technical analysis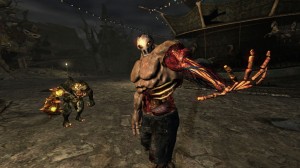 Gotta love multi-platform releases. Not only do they bring about a decision-making process over which version to get (for multi-console owners) but they also bring about another debate. Which one runs better? This is the world we live in today, a world of conflicting fanbases of consoles. PS3 fans will forever cherish the blu, and XBox fans will always cherish their XBox Live, or maybe not…depends.
Regardless, here's another technical showdown , this time between both versions of the ultra-bloody Splatterhouse. Maybe this will help some of you decide which one to purchase, or maybe it'll just fuel some more console bashing, who knows.
Click here for the analysis and check out an excerpt below.
Surprisingly, the PlayStation 3 version load-times were much faster than the Xbox 360 version than we anticipated. While both version had some lengthy load-times, on average, the PlayStation 3 version loaded eight seconds faster than the Xbox 360. Even more impressive is that the PlayStation 3 version managed to have faster load-times without forcing a mandatory install. Again, while both versions had their fair share of load-times, the PlayStation 3 version had less. Below are our load-times samples we gathered during our capture session.