Could a Fatal Frame 3DS Be in the Works?
While we all might have gotten our hopes up just a little bit, sadly the revealed info is not from Fatal Frame 3DS.  However, don't launch your 3DS out the window…if you haven't already.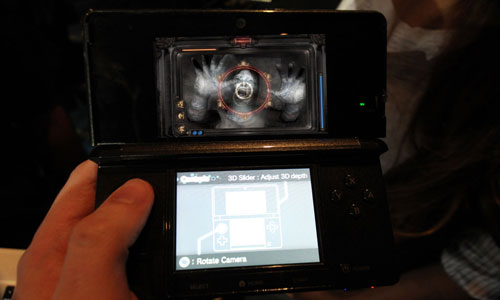 Thanks to Gizmodo for the 3DS image, but there are no images yet of the actual game
According to Andriasang and The Sinobi Blog, the guys and gals behind the Fatal Frame series are working on a new title for the fledgling Nintendo console titled Shinrei Shashin – Spirit Photo.  The game is bundled with an "AR Notebook," which is heavily utilized in the game.
So the first news on the story is that you work with a girl who you brought out into the real world to solve a mystery behind a cursed Purple Diary – the AR diary.
The little title also includes several minigames, and a "Ghost Camera," which is a free-shoot mode.
Details on a release date, or even a publisher at this point are pretty slim, but you can trust that we'll have more details on Spirit Photo, including any Spirit Photo photos we happen to come across.  We're very interested in horror AR games and we'd like to see more of them in the works.  Who are we kidding?  We love to see horror games of any kind in the works.
[Source]