Fangamer Announces New Silent Hill Merch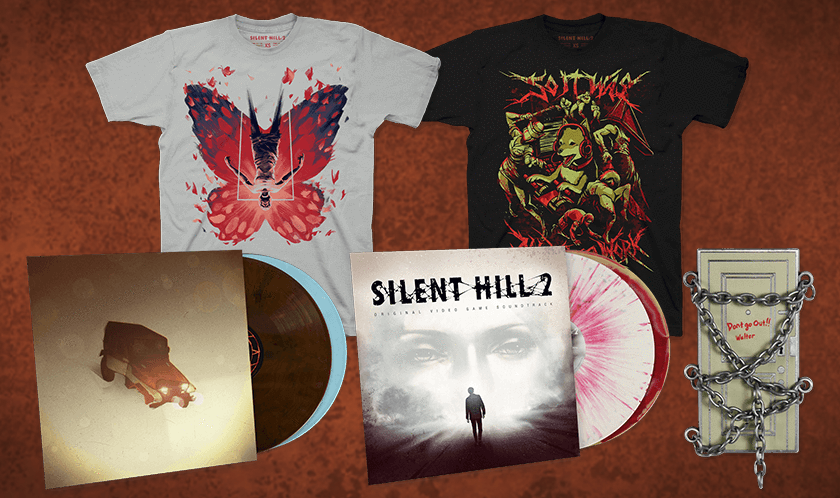 Gaming merchandise retailer Fangamer today announced a new line of Silent Hill goodies for collectors and abandoned fans to get excited for. Open up your wallets, kids.
Fangamer's Silent Hill collection launched today with five items, two of which are retailer exclusive versions of Mondo's Silent Hill and Silent Hill 2 vinyl OSTs. Starting with music, the Silent Hill vinyl OST includes Akira Yamaoka's 41 tracks of heavy industrial and atmospheric sounds, artwork by Sam Wolfe Connelly, and two vinyls in Fangamer-exclusive colors inspired by characters Harry Mason (cloudy, rusty brown) and Cybil Bennett (pale blue like her uniform). The Silent Hill 2 vinyl OST features Yamaoka's 30 original tracks for the game, more custom artwork, and two colored vinyls themed after the Bubble Head Nurse and Pyramid Head.
The collection also includes two t-shirts, one featuring Silent Hill doggo Mira in a heavy-metal themed graphic, and another of Mary as she appears at the end of Silent Hill 2 against a crimson moth. Both come with a tiny bonus item — a pin and a "note from mary," respectively. Lastly, a Silent Hill 4-themed pin of Room 302, complete with tiny chains, is also available. Prices range from $12-$35 for the items.
As a very new owner of a vinyl player (thanks Brock), I purchased the Mondo Silent Hill 2 vinyl OST earlier this week and now Fangamer's exclusive Silent Hill variant. I couldn't resist; they're so pretty. This is my life now. Why am I doing this? Help.
[Source]