Evil Dead: Virtual Nightmare Now Available for Oculus Go and Gear VR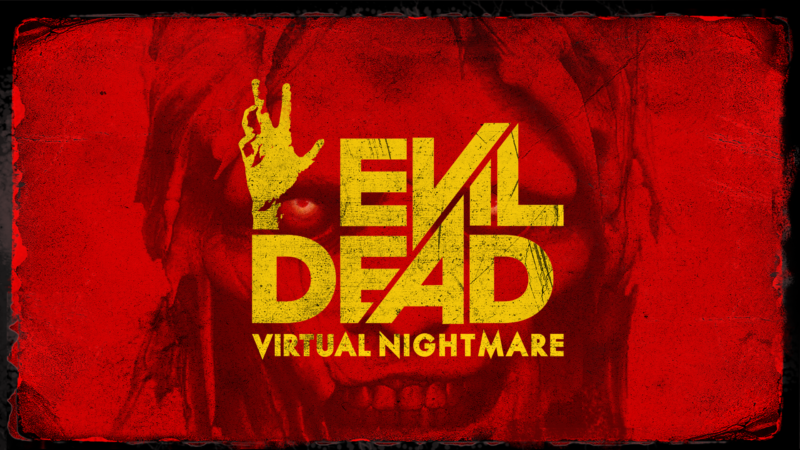 Grooo…vy?
So we'd been pretty hyped up the last few days after Bruce Campbell unofficially announced that he was involved in a new Evil Dead game, with more fuel being added by Ash vs Evil Dead star Ray Santiago all but confirming that it would be in VR. Well, cat's out of the bag and… onto the Oculus Store. Evil Dead: Virtual Nightmare is now available for $4.99, and sees us back in the infamous cabin to fight off deadites in full VR. From the press release:
Evil Dead: Virtual Nightmare offers fans a truly unique opportunity to fully immerse themselves within the Evil Dead universe unlike ever before. With 360 degree sound and vision, you get to explore inside the infamous cabin and the depths of the surrounding forest!

What begins as a tribute to the franchise quickly descends into anarchy as you are thrown into a chaotic fight for survival. When the discovery of an ancient book summons up an evil force, you find yourself trapped and alone in a desolated cabin in the middle of the woods. Hordes of defiant demons, an arsenal of iconic weaponry, and fast, fluid movements set the atmospheric adrenaline-pumping scene.

Discover increasingly challenging missions in the Book of the Dead, unlock charms, pick up new weapons and gather some courage as you combat powerful bosses! Dare you enter the Evil Dead forest for the ultimate VR horror experience?

Evil Dead: Virtual Nightmare features:
– Intense, 1st person POV, puts players at the centre of the Evil Dead universe
– Unnerving 360 experience of the iconic Evil Dead cabin
– Access classic Evil Dead weapons from nail gun to the chainsaw
– Unlock tougher missions from the Book of The Dead
– Realistic 3D VR graphics and camerawork recreate the look and feel of the movie set
I would be lying if I said that I wasn't a little bit disappointed that this is a mobile game. It's been over a decade sine the last home console Evil Dead game, Regeneration, and I was hoping that this would be a resurgence. But hey, Ash and co. are back for one last outing so I'm down for that. This also had full oversight and support from series creator Sam Raimi according to an interview with developers (who also developed the 2016 Evil Dead: Endless Nightmare mobile game). I don't believe any of us here at Rely actually have an Oculus Go or Gear VR, but if it's at all possible for us to play this we'll be sure to let you know how it is.