Dutch '87 DLC Coming to Predator: Hunting Grounds
As we reported back in May, new DLC was released for Predator: Hunting Grounds that featured Old Man Dutch as a playable character in the game along with a set of debriefing tapes narrated by Arnold Schwarzenegger detailing what Major Schaefer has been up to since the events of the first film.
While it was hinted at in a Reddit thread discussing a datamine of the game, nothing had been officially announced, until now. Now, new word comes that the Austrian Oak is back in all his original 1987 glory in the form of a classic Dutch '87 skin!
In a new post on PlayStation.Blog, Chief Creative Officer at Illfonic, Jared Gerritzen spoke about what the upcoming DLC has to offer, in addition to the Free Trial Weekend of the game they're offering:
Predator: Hunting Grounds would not be a true love song to the '87 Predator film if we didn't bring the community a classic Dutch playable character. The opportunity to tell a new story with Dutch, and to represent his iconic look was so good, we had to do both! And just like Dutch 2025 you will get all the character lines voiced by the one and only. This Paid DLC will also get you 8 tint customizations and early access to Dutch's fully automatic, hard-hitting Mercenary weapon featuring an underbarrel grenade launcher and steady hip firing action.

The trial will be open from 7am PT / 3pm BST / 4pm CEST on August 28th to 7am PT / 3pm BST / 4pm CEST  on August 30th on PS4 for players with an active PS Plus membership. If you don't own Predator: Hunting Grounds just visit the PlayStation Store, download the Trial, and join your friends in the hunt.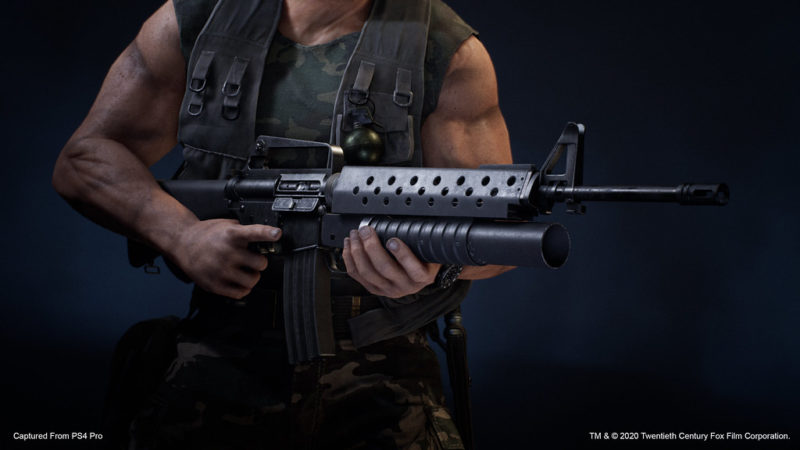 I was ecstatic about the inclusion of the Dutch 2025 skin and the accompanying debriefing tapes, but now I'm absolutely over the moon with this new Dutch '87 skin! I leveled up to level 50 just to hear Arnold narrate those tapes, and am really looking forward to dropping back into the jungle with his original, iconic 1987 look.
On a side note, I also finished listening to the audiobook of Predator: Stalking Shadows (a prequel novel that expands on the story laid out in the OWLF tapes from the game that helps flesh out the time between Predator 2 and Hunting Grounds). I thoroughly enjoyed it and recommend it to anyone who wants to learn more about Dutch's history through the years.
The new paid Dutch '87 DLC pack will be released on Tuesday, September 1st. The game is available on PS4 and PC via the Epic Games Store.