One of the more interesting, albeit lower-key, releases for 2020 is Disaster Report 4: Summer Memories. Luckily, we can already mark on the calendar when this survival adventure will go on sale. The game is set to arrive in the West on PS4 (with an experience for PSVR), Nintendo Switch and PC on April 7th, 2020.
Here are some of the game's key features:
Stop! Think! Then Act! – Evaluate each perilous situation and make decisions that will impact your own safety as well as that of others.
Torn From the Headlines – Interact with realistic scenarios within a Japanese city devastated by an earthquake, including scenarios designed in collaboration with the Kobe City Fire Bureau.
Danger Around Every Corner – Navigate a multitude of crises—from collapsing buildings to raging fires—in a city overwhelmed by calamity.
Interested Westerners can now preorder a copy on the game's official website. There are two options: Standard and Limited. The Standard version just comes with the game, while the Limited edition includes bonus items such as a backpack, the official soundtrack, a collectible first aid box and an ID tag.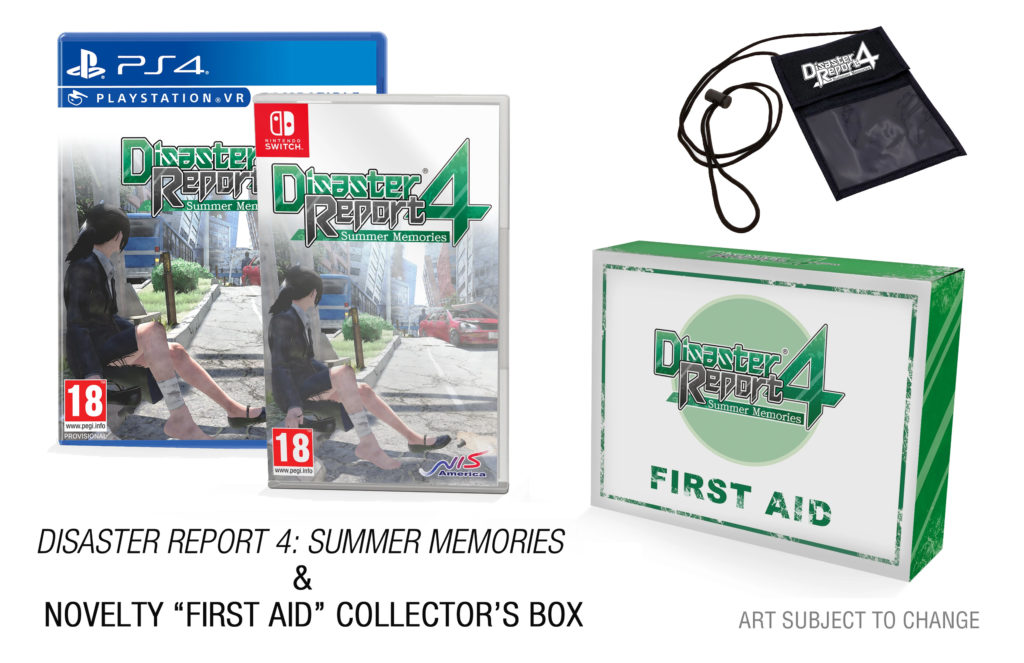 To get an idea of ​​what to expect from the game, NIS America has also released a new gameplay trailer to teach various mechanics, such as interactions with other survivors and decision making. The teaser mixes a bit of gameplay with cinematics, as it follows the protagonist in her attempt to survive earthquakes and other devastating calamities befalling her city.
Disaster Report 4: Summer Memories originally came out in 2018 for the PS4 in Japan, and a year later came to the Nintendo Switch but was still exclusive to Japan. This new version will be releasing in the middle of a flood of other great titles, but hopefully, it will be able to survive and get a chance to stand out.