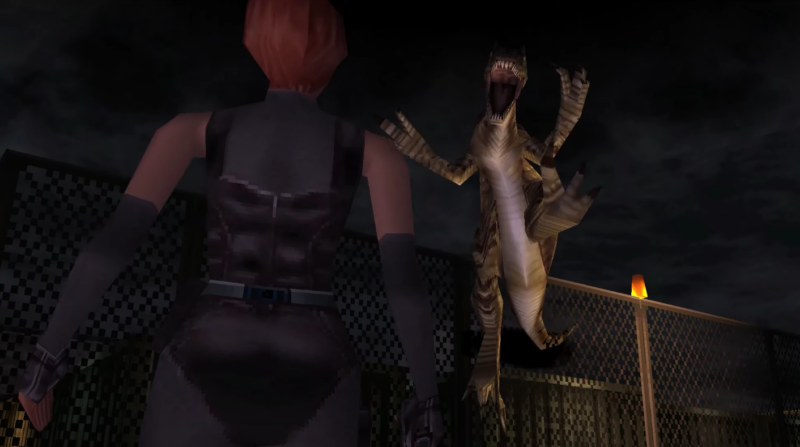 While we wait patiently for Capcom to do pretty much anything with the beloved Dino Crisis brand, fans have been taking things into their own hands. Last year we heard that a fan-made Dino Crisis remake was in the works, and now the team over at The Apple of Eden (a fan conglomeration that specializes in modding older RE titles) released their latest project: Dino Crisis Classic REbirth. This fan-made patch improves the game drastically to get a truly modern experience out of the '00 PC port of the game, including support for up to 4k resolutions, upgrading graphical limitations, a widescreen mode, and even support for 60fps gameplay! Here's their full breakdown, as well as the patch in action:
This patch DLL is a plug&play way to enjoy Dino Crisis for PC with improved compatibility and some tweaks that make it work on modern hardware.
Replaces DirectDraw 5.00 with DirectX 9, for improved compatibility with modern GPUs (and prevents rundll32.exe from executing for no good reason). Will implement OpenGL and DirectX11 in a later revision.
Replaces DirectInput 3.00/5.00 with new input methods such as XInput, RawInput, DirectInput 8.0 (also native keyboard support), effectively allowing most controllers to be detected and supported by the game.
Replaces DirectShow video playback with a custom video player that doesn't depend on deprecated Microsoft technologies. No codecs required, FFmpeg takes care of Indeo5 and adds native MP4 + AAC support.
Adds a new 3D rendering mode with more precise transformation methods that fix wobbliness and texture warping.
Improves sound capabilities of the game, making the audio driver switch from 22050Hz 8bit audio driver to 44100Hz 16bits. It also fixes a bug that causes music to increasingly speed up when player gets damaged across rooms without healing.
Adds resolutions higher than 640×480 (supports 4K too), adds a hotkey to switch resolution in game, and provides a more stable borderless window mode to replace glitchy fullscreen.
Adds an optional adaptative wide screen mode to fill the whole screen area (i.e. 16:9 & 16:10 ratios or even ultra widescreen, you name it).
Fixes frame rate issue to provide smooth 30/60 fps support.
Removes the need to install the game or to launch it via a dedicated launcher. Just copy your data from the install disk, add the DLL, execute the game and you are ready to go. If your copy was already installed, the DLL will convert Registry settings on the fly.
You can read more over on their website here. It's pretty awesome to say the least, and it gives both returning fans and newcomers plenty of reason to visit Resident Evil's sister franchise. There still hasn't been public any movement from Capcom in regards to Dino Crisis outside of re-upping the trademark last year, while rumors have suggested that plans for a remake were axed some time ago. We can only keep our fingers crossed for the time being. With Resident Evil's breakout successes as of late and the reinvigoration of the Devil May Cry brand with DMC5, we can only hope that the middle child of that family of franchises gets its day in the sun sooner or later.
[Source]