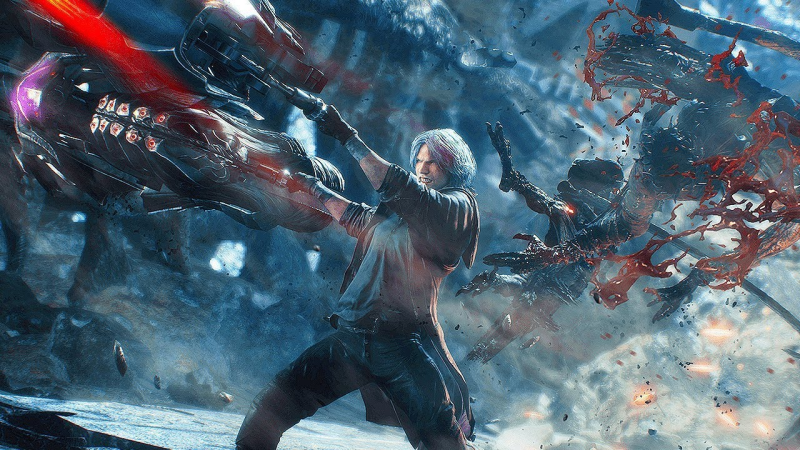 Devil May Cry 5 is now just a week away. Capcom has decided to let fans stew a little longer by releasing one final trailer for the upcoming action game. However, unlike previous footage that focused on individual characters like Dante or V, Devil May Cry 5's launch trailer has quite a few spoilers.
If you want to go into the story of Devil May Cry 5 completely blind, I advise against watching the trailer down below.
Initially, the footage shown features a few sights that will be familiar to Devil May Cry fans who have been watching all the trailers Capcom has revealed so far. We see Dante, Nero, and the gang battling inside some kind of demon tree against a multi-eyed big bad, and see see Dante's iconic sword rebellion getting demolished during the fight.
However this trailer also shows Dante getting a new sword, one with a much more demonic look than his previous weaponry. We see Dante using Lady's Kalina Ann, get a good look at his Maijin Devil Form, and get a few more glimpses at character interactions amid a crumbling hellscape.
And then come the big reveals. About halfway through the trailer, we can clearly see Vergil, Dante's brother who has been absent from the series since Devil May Cry 3. While fans have long speculated Vergil to be the one who took Nero's arm in the game's initial E3 reveal, we now have undeniable confirmation that he will be in the game.
But the revelations don't stop there. The last half  of the trailer appears to be a flashback with Dante's mother Eva hiding him and telling him to escape and make a new life if she doesn't come back for him. Well, it could also be from Vergil's perspective, so we won't know how that plays into the story until the game releases. It's good to see a more emotional side to Devil May Cry 5, and being that Hideaki Itsuno intends for Devil May Cry 5 to be the end of the "Sons of Sparda" storyline, it seems fitting to revisit how Dante and Vergil's journeys began.
We also see the big bad Urizen capturing Lady and Trish, and insinuating he has some use for them. Will we see the two femme fatales turn on Dante and the gang? Is Mundus somehow really behind this? What role does Vergil play in all this? There are certainly some big reveals in this trailer, but it honestly leaves me with more questions than answers.
Thankfully, Devil May Cry 5 is right around the corner.
You can check out the trailer down below. Devil May Cry 5 releases March 8, 2019 on Playstation 4, Xbox One, and PC platforms. Check back here for more news and reviews as we get closer to the full release.