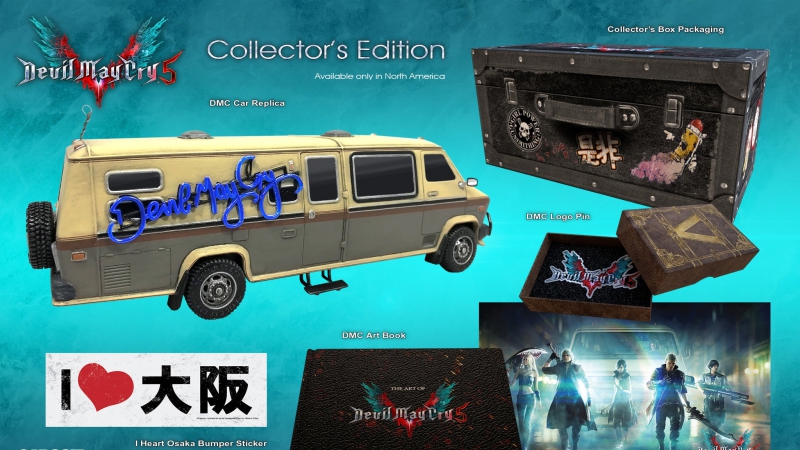 Devil May Cry 5 is without a doubt my most personally anticipated game of 2019. With only a few months left before the long-awaited return of Nero and non-reboot Dante, news about the game keeps coming. Today, for example, Capcom unveiled Devil May Cry 5's Collector's Edition, and it comes with plenty of cool swag for fans.
As with many AAA Collector's Editions, Devil May Cry 5's has a centerpiece collectible and a bunch of other little stuff. In this case, the big draw is a replica of Nico's mobile home from the game, and a really cool collector's box. The collector's edition's current Amazon page shows the package dimensions to be 11 x 9 x 6 inches and 5 pounds, so while it's hard to guess exactly how big the van will be, it likely won't take up too much shelf space.
Also included in the package are an 11″ x 17″ cloth print of the game's cast, an art book that also features in-game notes from Nico's workbench, and a"I Heart Osaka" bumper sticker, which I'm assuming is seen in-game. There's also a logo pin, if you like that kind of thing. Devil May Cry 5's Deluxe Edition is also included in the package for the console of your choice, and comes with additional devil arms and other in-game bonuses.
Alone, the Deluxe Edition has an MSRP of $69.99, while the Devil May Cry 5 Collector's Edition is priced at $149.99. As a hardcore fan of the series I'm tempted to scoop up every last bit of the game I can get my hands on at launch, but as cool as the collector's box and toy car are, I'm not sure the package is worth the $80 markup. The art book and cloth print are nice touches, but there are a few big oversights, including the lack of any kind of soundtrack. For a series with a legacy of great music, it seems like a bit of a missed opportunity. I also would have preferred a cooler collectible, such as a weapon replica or a sweet statue.
Still, this is probably a better option than the Devil May Cry 5 Collector's Edition that costs $8,000 and comes with a jacket.
Devil May Cry 5 releases March 8, 2019 on Playstation 4, Xbox One, and PC. You can check out some of the latest footage from the game right here.