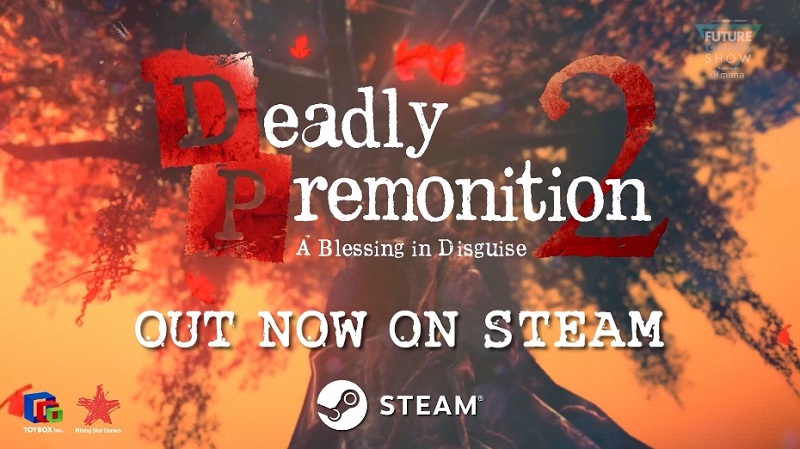 After already having some reports pointing towards a PC release for Deadly Premonition 2 all the way back in April of 2021, Swery65's follow-up to the original Deadly Premonition has finally been released on Steam, about a year after its release on the Nintendo Switch.
This was announced with a fun little trailer from Swery himself, with the tweet below:
Deadly Premonition 2 is finally here on Steam! You can meet York and Zach once again. Whether you're a fan of the previous installments, if you haven't played the series yet, if you liked the SWERY games, or even if you're an anti! I urge you to take this opportunity to play DP2! pic.twitter.com/XxrEwfaquD

— Hidetaka SWERY SueHERO (@Swery65) June 11, 2022
Early reports of the Steam version confirm that the game runs at a steady 60 FPS on PC; a far cry from the poor performance on the Nintendo Switch. While this PC version is a very straightforward port with few improvements, outside of the performance, it still gives the chance for more people to see what the game has to offer. More options and improvements may be added through later patches and updates.
The original Switch version was a mixed bag and had several issues, even outside the massive performance problems. Unfortunately, this release doesn't change any of the content of the game to make a better narrative or "Director's Cut," but just provides another option to play and avoid the very detrimental performance issues.
There have been no other announcements of ports to the Xbox or PlayStation platforms yet, but we may see them in due time.
Whether you played Deadly Premonition 2 upon its original release or not, the PC version seems to be a much better experience and a good time to jump in and experience the game if you haven't yet.
You can head over and check it out on Steam now, where the game is also available for a discounted price to celebrate the release until the end of this week.