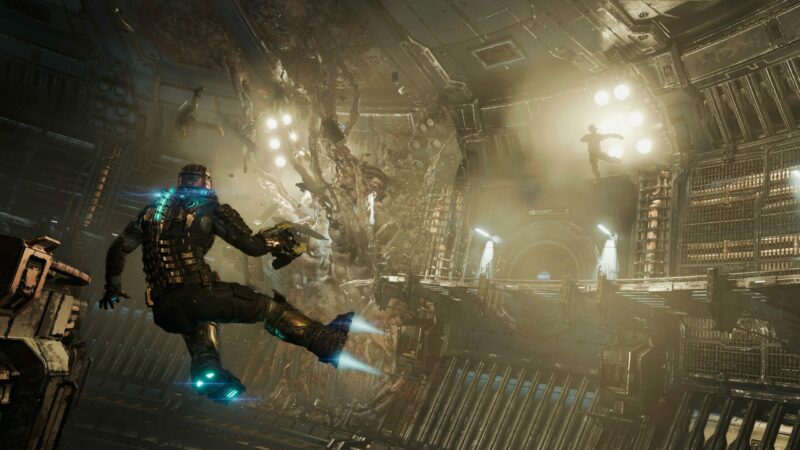 Recently the official Dead Space account has been teasing… something… as the marketing is beginning to ramp up on the project. We recently got a set of gorgeous-looking gameplay screenshots, and an all-new "Inside Dead Space" page was added to EA's official website for the game. Fans have finally pieced together what has turned out to be a QR code, which has lead to an all-new teaser for the game showcasing the release date of our first real look at gameplay! There's brief snippets of said gameplay in the video, although a smidge hard to see, but the real joy is the date itself, October 4th!
WE DID IT GAMERS WE CRACKED THE DEAD SPACE CODE WIDE OPEN OCTOBER 4TH HERE WE COME ONG pic.twitter.com/wyJBIqUsSg

— 🎥Smart Alec🎬 (@_TheSmartAlec1) September 30, 2022
Despite being announced last year, Dead Space Remake has had no actual gameplay to show so far (a brief video was shown of Isaac walking around an early area, but it wasn't meant as a true gameplay reveal). Instead, marketing has focused entirely on the process of development itself, an interesting and rather unique tactic to say the least. With many fans most likely being skeptical of this entry, the first Dead Space title not developed with the involvement of the original team, Visceral Games, but the new team's effort to be as transparent as possible and gather as much feedback from the community as they can has been admirable. If you haven't gotten the chance, the development diaries they've been showing off so far have been absolutely fantastic, showcasing a wide range of exciting new features (such as the new gore system being implemented to dismemberment) and how they're taking advantage of current-gen hardware. Combined with all the new details we've gotten, like a completely open and fully explorable Ishimura to the return of Gunner Wright as Isaac, stoked is starting to be not strong enough a word for our anticipation.
Dead Space Remake releases on January 27th, 2023 across Xbox Series S|X, PlayStation 5, and PC.