Crowdfunding Roundup Week of 6/19-6/25

Another week, another Crowdfunding Roundup. This is the weekly article where we gather up all of the horror videogaming campaigns from the likes of Kickstarter, IndeiGoGo, and Gamekicker. This week is a long post, so let's jump right in. As always, you can let us know about campaigns you want to see by sending us a shout on Facebook, Twitter, or email. You can find contact and social media info for all of your favorite writers on our staff page, and check out streams of new games on our Twitch and YouTube channels.
Completed Campaigns
Death Story

Death Story didn't make its crowdfunding goal, as we reported last week, but the developer has published an update about the future of the game:
During the kickstarter, I tried to rush out a demo as fast as I could but it became very unpolished and buggy, I cannot release it in its current state. To move forward with Death Story, I'm currently looking at converting the demo into the actual first part of the full game and releasing it on steam early access. This way I can get some funding while working on completing the game. The second alternative is to spruce up the demo and launch a superior kickstarter from the mistakes I've learned in this one.
Stygian 

Stygian is going strong. It has already met its goal, and has two days left to reach stretch goals. Stygian is a new take on Lovecraft, blending full-scale RPG mechanics with the eerie mythos. The game doesn't place you in the usual setting of a world headed for demise, instead beginning after the rise of the Old Gods and decline of society. Balance sanity, skills, and character interaction to find answers and accept your fate. Developer Cultic Games is projecting a release date of November 2017.
Lumbermancer

Lumbermancer backers can expect to receive their rewards soon. Those who did not back the game on Kickstarter can purchase it on Steam once it launches, which should be within the next fourteen days. Lumbermancer is the story of a hungry old wizard in the forest who has decided to do deals with Death and kill off his neighbors for their tasty insides. Control the wizard and a team of logs that have come to life to help you wreak havoc on the innocents around you. Make a tasty sandwich. Wait for physical rewards.
The campaign for Lumbermancer started with a goal of $15, and a creator who just wanted to interact with the community. It ended with more than $8,500 in contributions, and more backers for the "Real Stuff" tiers than Roger von Biersborn had expected. Some physical rewards are delayed while he orders and creates more items, but most will be shipped when the game releases. I've had a chance to try it already, and this game is incredibly fun.
Ongoing Campaigns
Demonheart

Demonheart is a visual novel game about a young witch who has a demon conversing with her inside of her mind as she navigates an uncertain world. The main character of the novel is a woman named Bright, who begins to uncover dark secrets harbored by the beloved healing witch Orchid. The secrets lead her down a winding path of betrayal and intrigue that earn the title an 17+ age rating. Demonheart has eight days left in its campaign, and needs only $400 to meet its flexible goal. Extra funds will help the team hire voice actors for NPC dialogue. The visual novel will be released in five chapters between December of 2016 and 2017.
Dwindle 

Dwindle reached Greenlit status as I was writing this article. The game is garnering plenty of interest in the community, but is having a harder time garnering enough financial support. The campaign has raised $9,001 of its $35,000 goal, and has eleven days to raise the balance. The team at Rabid Troll have been active in social media to keep the community engaged, and have a busy Twitch channel with game development streams running 1pm-7pm CST Monday through Thursday.
In Dwindle, players take on the roll of a mining foreman who finds himself trapped in a collapsed mineshaft with his crew of 23 men. As the foreman, you must assign tasks and assess risks in the mine and the mental status of the men. Dwindle contains hundreds of lines of dialogue and has a dynamic map that changes when you load a new game, so the replay value on this game is high. The development is in good hands, with a team comprised of developers who have worked in the tech industry and game development in the past. I'm interested to see what the team does with the game, considering the slow state of crowdfunding in general at the moment. The game is already well into development, so I assume that a failed Kickstarter would be followed by Steam Early Access.
Transmission

Transmission has reached $25,250 of its $84,000 goal, and has just over a week left in its campaign. The game is a gorgeous blend of science fiction and hand-painted scenes, leaving players alone in a beautifully drawn world. Stranded on a dangerous alien planet with a broken ship, players must piece together the mystery of a strange obsidian object and their own shattered past. Developer Paper Unicorn says that the game is about 50% done, and they are aiming for late 2017 completion. Transmission has been Greenlit on Steam, so whether the team makes the goal or not, we will be seeing more of this game.
Aik

Aik has raised 10% of its $11,000 goal. Atmospheric and moody, Aik brings players puzzles in a surreal world. The art is entirely hand-drawn, which gives even more meaning to the fact that you can only communicate with other creatures in the game through motion. While players will face challenging puzzles, the game does include combat and boss fights. Abilities are built through experience and completion of quests, which are also assigned via visual cues. Aik is the nonlinear story of a mandrake in a world of frightening woodland creatures and flying whales, working its way through the mystery of what is going on.
Solo developer Christian Arnold plans to release Aik in May of 2017, with the help of developer friends. They art in the game is heavily inspired by the flora of Germany, with more than 3,000 reference photos taken near Coburg. It comes to life with the help of an energetic soundtrack created especially for the game by Christian's friend Andreas Grabner. While the campaign is slow to gain backers, the concept is strong. With more exposure, I think this could be a successful campaign to fund a game in the vein of Limbo.
The Last Weekend

The Last Weekend is another visual novel with horror themes. In this one, players follow the story of a pair of young couples on a weekend trip to a cabin, stocked up on alcohol and good feelings. They meet some girls at the cabin, where it promptly begins to rain. The group entertains themselves with a game called "Guess Who?". When the hostess draws the death card and dies, the game turns terrifying. Suddenly, every member is a potential target. Where the story goes from there depends on player choices. Players can lead the group to safety, or watch them be picked off one at a time. Swedish developer Kexboy warns that the game will contain graphic erotic content, and will be released with an AO 18+ Rating. The $10,000 flexible goal campaign has two weeks remaining.
Undone: Project Nightmare

Undone: Project Nightmare is a return to pure survival horror. Play as a man in a post-apocalyptic world, infected with an unknown virus. Race against time and mutated creatures to discover what happened and find the cure. The story is non-linear and choice-driven, with multiple endings based on the moral choices you make throughout the game. The map is not open-world, and areas will be available to you based on your choices. Events a dynamic as well, creating a different player experience each time. The game is being built on the Unity3 engine by a pair of dedicated young developers who have spent four years learning game development in their free time. Because of time constraints, the team plan to release the game in October of 2018. Half of the $1,000 goal they have set will be used to hire a freelance developer with more coding experience to write a few scripts for the game. Supporters who think they've got the experience to write that coding and want to get their foot in the door with game development might want to head over and send a resume to the team.
Nyctophobia: Amelia's Dream

Nyctophobia: Amelia's Dream is psychological horror, brought to life with graphics that look like they'd be at home in Five Nights At Freddy's. Set in a quiet suburban home, the game follows a self-described "family man" as he devolves into insanity. The house is constantly changing, becoming more horrifying by the minute, and it is haunted with a ghoulish apparition of the man himself. Players will have to gather pages of a diary throughout the house to overcome the apparition, while having absolutely no idea what is going on or why it all began. United Kingdom-based developer J203 is asking for $2,120 to complete the project, with a projected release date of September 2016.
New Campaigns
System Shock

System Shock is finally on Kickstarter, after a monthlong social media campaign to garner support before their 30 day clock began ticking. That work paid off, with right at $514,000 raised in 48 hours, bringing the campaign more than halfway to its $900,000 goal. The modern remake of System Shock is in the excellent hands of Nightdive Studios, who have worked on popular titles such as World of Warcraft, The Elder Scrolls: Skyrim, Bioshock and Bioshock Infinite, the Fallout series, and the original release of System Shock in 1994. The team has plenty of community support, with more than 8,500 backers so far, and more to come over the next four weeks. We will start seeing stretch goals soon, and the team has indicated in the campaign page that they would like to expand the release to consoles if funding and time permit. Considering the turnout so far, we will likely hear more to that end very soon.
Indigo Park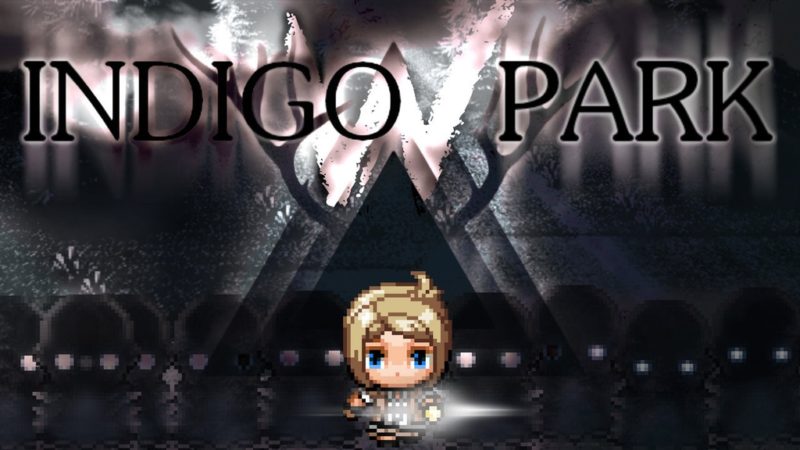 Indigo Park is this week's adorable horror entry, bringing two-dimensional pixel art to the world of psychological horror. This game looks like a good fit for players who enjoyed The Witch's House, and is inspired by the early titles in the Silent Hill series. Play as a young woman entering an abandoned National Park to search for her sister who went missing after becoming obsessed with a mysterious object. Uncover the park's past as a Native American burial ground and more recent history as home to a homicidal cult. Solve puzzles, interact with lonely spirits, lug around a book your sister left containing cult rituals. That is surely a huge coincidence.
All of this takes place in a vast open map, allowing for plenty of exploring and optional side quests. The game is being created entirely by solo developer Ron Porter, a freelance graphic designer from Aurora, Colorado. He is asking for $3,000 to bring the game to life, part of which will be hiring an artist with more game graphics experience. The game is scheduled for release in February 2017 if all goes according to plan.
Skynet Rising

Skynet Rising is a game based on the Terminator series, exploring the lives of those left behind after the fall of mankind. Play as main character Isaac, on a mission with his brother Victor to fight the hordes of mutants and an army of survivors to save his girlfriend, Gina. Skynet Rising is a post-apocalyptic sandbox FPS being built on a custom engine. The T-REX engine, as it is being called, takes full advantage of DirectX 11 and works seamlessly with the Oculus Rift, which is allowing the team to create a VR arcade version of the game. The game will have available local and online cooperative campaign mode, as well.
The indie team behind Skynet Rising are working hard to make the game extremely dynamic. While the mutants mobs you encounter in the game will attack mindlessly, the human militia will respond to your attacks dynamically, increasing the skill required to win battles over time. The game will feature a litany of weapons and ammunition, and the best weapons will be hidden in towers that require a boss fight. The team is asking for only $60,000 to complete work on the game, which is astonishing given its scope. The campaign will run for two months, and early backers can play the beta version of the game as early as next month. The full release of the game is projected for December 2016.
Other News in Crowdfunding
Fig Gaming
Fig is a small games publisher dedicated to helping indie titles come to life. They provide indie developers with help in crowdfunding, development advances, and distribution deals. They co-publish games with the developer, leaving the creative direction and vision in the hands of the teams building tomorrow's games. The crowdfunding campaigns for the games they publish are run directly through their own website, and each game is fully vetted before the community ever sees a campaign. They post only a handful of campaigns per year, and specialize in very large goals,  usually between $250,000 and $2,000,000. They've handled Jay and Silent Bob, as well as Psychonauts, and their most recent campaign success was Consortium: The Tower. While the site doesn't have any current campaigns, they are a good place to watch for large-goal campaigns and high-end development.
Crowdfunding Roundup News
The Crowdfunding Roundup is officially moving to Mondays. The exception will be July 4th, which will be published on July 5th, and July 18th & 25th, while I am on vacation. The Roundup will return on August 2nd.
That wraps up this week's crowdfunding extravaganza. Keep an eye on the site for more System Shock news as we delve into the horror classic and its pending remake.