Crowdfunding Roundup 5/22-5/28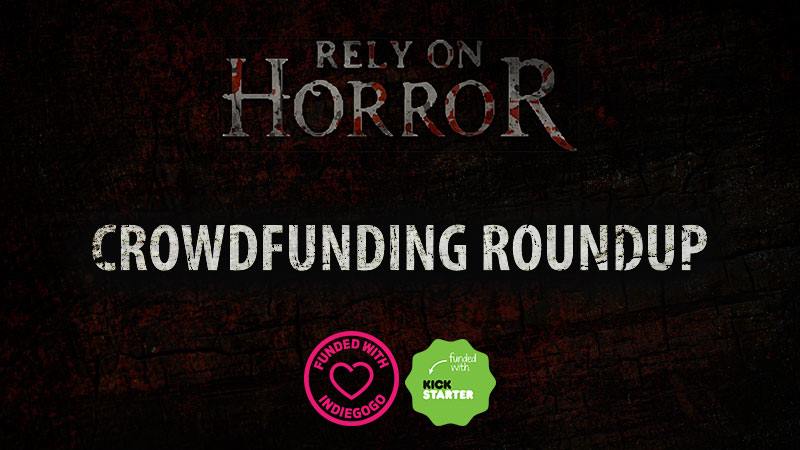 Welcome to the weekly Crowdfunding Roundup, where we bring you news on the best horror gaming campaigns from Kickstarter and IndieGoGo. We have two successful campaigns to look at this week. We also have updates on a couple of completed campaigns we've previously covered. There are ongoing campaigns, with 20 days or less left before completion, and campaigns that are just kicking off. If you want to suggest a great campaign, send us a shout on Facebook, Twitter, or via email. You can always find contact information for specific writers on our staff page. Without further ado, Round 3 of the Roundup covering 5/22/16-5/28/16.
Completed Campaigns
Insomia

Insomnia finished strong this week, wrapping up with full funding plus four stretch goals reached. The dieselpunk space RPG is now going into full-force production, and is expected to release in Winter 2016. Thanks to the stretch goals, the game will have a larger playable area and will feature travelling traders whose inventory changes depending on your actions in the game. Naughty or nice? Better think twice. It will also feature a mechanical pet who plays music disks you can find hidden around the map, and a magic eight ball that might or might not give you hints and good advice when you ask.
Beyond the pledges from individuals excited to see the game brought to life, the guys at Studio Mono also received an Unreal Dev Grant to help with production costs. The team is accepting late support at the same tiers as its campaign via their website, where you can download a prologue chapter.
Dasein

We reached out to the development team at Dead End Studio to find out what the future holds for Dasein since their Kickstarter failed. The team let us know that the project isn't dead. The game was already functional before they launched the campaign, and funds were intended to facilitate polishing it up for release. The team says that the game is about halfway completed, and needs some mechanics and graphics added, but that they are working towards releasing a demo for players. I suppose it remains to be seen if they choose to launch a new campaign once the demo is released, but we can rest assured that this game will very likely see production.
Beholder

Warm Lamp Games, the minds behind choice-driven spying game Beholder, updated the community on their plans for the future of the game. The next move for Beholder looks like Steam Early Access, with a beta version of the game expected to release on September 7, 2016. Their Steam page is live, and they have an active community discussion page. Their replies in that thread imply that there will be a new campaign coming soon, with revamped rewards that may include beta access. The team will be completing the production of the game whether a new campaign is launched or not, as all that remains to complete is polishing the game for release.
Don't Kill Her

Don't Kill Her finished its flexible goal IndieGoGo campaign at 73% funded. The beauty of IndieGoGo's flexible goal campaigns is that it allows well-funded projects to collect their donations even when they do not quite reach the end goal. When a game is near completion and just needs polishing touches, this can be a perfect fit, since some funding takes them further than no funding. Wuthrer is very happy with the results, and will be going into serious dev mode to complete the game.
Ongoing Campaigns
Ilios: Betrayal of Gods

The Kickstarter campaign for Ilios: Betrayal of Gods has raised $31,000 of the $100,000 Aurora Game Studio needs to bring their battle against the Greek gods to life. With 17 days left, it looks like a tough climb for the studio. We took a look at this game last week as a new campaign, with $28,000 raised in the first week of their campaign. This week is 10% of the prior week, so hopefully they can drum up some more exposure in for the final two weeks.
The game is likely to see a spike in support following its May 27th Steam Greenlight success. Ilios pits players against the gods following the Sack of Troy, taking the role of a young hero hell bent on retribution for the death of his family. Homer's epic will be brought to life in nine levels that blend platforming and battles with legends as old as civilization itself.
Demoniaca: Everlasting Night

Demoniaca reached Steam Greenlight success this week, as well. The Kickstarter campaign still has $7,500 to raise in the fifteen days remaining on their campaign. The developers are very active on social media, which is helping their campaign find new fans, and they've been getting some interesting exposure from Japanese publications enamored with their unarmored heroines. The game is a love song to Sega-style early gaming, with options for fully clothed or fully nude protagonists.
The nudity doesn't mean the team is skimping elsewhere. They've carefully built the battle mechanics and have worked to enhance the graphics since the campaign launched. While the nudity might be the main draw for some players, the storyline deserves to be taken seriously by those who would otherwise give the game side-eye. Play as a woman who wakes form the dead after being viciously disemboweled in a dark alleyway, and build a small army of women seeking justice for the wrongs against them. Bring down evil, while also bringing down real-life assumptions about whether it is appropriate for a female character to be nude in an otherwise adult-rated game. Fair warning: the campaign page and Twitter for this game are NSFW, so don't pop them open at your desk.
New Campaigns
Death Story

Death Story is an adorable "metroidvania" side-scrolling action platformer that takes inspiration from the likes of both Spelunky and Dark Souls. Play a little girl who has been chosen by fate to carry the Death Arcana, giving her the powers of death. Since picking up these powers, she is feared by the people around her and sets off on a mission to redeem herself. The graphics look smooth, and the levels are fully fleshed out in the trailer. The characters are drawn in moe anime style, leaving players with an overwhelming sense of "awwww".
Death Story is being created by indie developer Neko Studio out of California, with matching adorable music by MangoKitty. The Kickstarter campaign has raised $3,362 of its $12,666 goal in less than a week, and has 22 days left. Death Story will be available on PC, Mac, and Linux, and could be multiplayer if it meets the $20,000 stretch goal.
Lumbermancer

Another ultra-cute entry this week, Lumbermancer is an adorable story of a magician battling the forces of evil by bringing life to the forest. Literally. You're not battling to save the world, so don't get too excited. You're taking on the Devil, the Ghost King, the queen of the witches, and the horrors of the swamps in order to get the ingredients to make yourself a delicious sandwich. Kill the denizens of the Forever Forest with total impunity, and collect their souls. Death runs the shop next door to your house, and you can pay him in souls for epic battle upgrades, like Sexy Pork. Who doesn't want dashing porcine backup to arrive in the heat of battle?
Lumbermancer is a sure thing. The campaign blew through its $15 goal, and is currently sitting pretty at $1,840 with 26 days to go. The game is completely finished, and is scheduled for release in June. Solo developer Roger von Biersborn is simply offering a cheap way of purchasing the game while earning some delightful swag. If you have need for a golden lapel pin of a cute little log with a face, you can get that here. Need a patch for the Lumbermancer's Secret Society? He's got that. Just want a fun-yet-macabre game about kicking the devil's backside for some holy toast? That's here, too.
Godless

Godless is the first effort by indie developers Revolutionary Media Company, a completely African-American team from Minneapolis. Comprised of marketers, artists, and graphic designers who have taught themselves to program, the team wants to tell an important story. In Godless, you play as a member of a team of astronauts sent to recover resources from a human colony on a distant moon. Leaving behind a home torn by World War III, you set out into unknown circumstances. When you arrive, your ship is hijacked, the human colony has been destroyed, and the natives of the moon are held under a totalitarian regime. You must band together with the native citizens, the remaining humans, and your ships' team to mount a resistance against the government of Metria. This is the only hope for your survival, and the only hope for returning in time to end the war at home before all is lost.
The story is a metaphor for the oppression we see around us in real life every day. The team wants to make heroes of the downtrodden and hopeless, to give them the power to be their own saviors. It's going to be a long road to completion- the campaign needs to raise $50,000 in 27 days. Lead programmer Tariq is asking the gaming community for a "miracle" to let them see it through. They'd like to bring the game to PC, Mac, and Linux in Spring 2017, with stretch goals allowing for a possible Oculus VR port. A downloadable demo should be available within the next few days on the Kickstarter page, and some backer levels include early access to the game.
Other News In Crowdfunding
Gamekicker
Gamekicker is a new crowdfunding site dedicated solely to vetted videogame campaigns. They have taken note of the weaknesses I notice every single week when I gather campaigns for this post. While IndieGoGo and Kickstarter are great crowdfunding sites, the filters and organization of the campaigns make it very difficult to stumble upon a great video game. There are no filters for what type of game you want, so you're going to get tabletops, LARPs, card games, and people raising money to buy a game or start a streaming channel. You also can't filter by genre, so bring on the basketball and kid's educational tools! Want to see campaigns with only a few days left, or just the new ones, or maybe somewhere in between? Happy digging! Not interested in looking at a dozen games that are so poorly developed, no one would dare fund them? Too bad.
Gamekicker wants to change all of that.  They will have filters for genres and campaign lengths. They will vet every campaign before it launches, allowing only those which meet a certain quality standard. No more digging through bad Unity mockups of the latest Slender or Cthulhu game. Developers will have to be creative and capable to be featured on the site.
The downside of a new crowdfunding site is that it is relatively unknown. New sites can spook potential backers if they are not very clear about their security measures for financial information. They can also be less likely to be seen by people who frequent sites like Kickstarter and IndieGoGo to browse for games. It's really just a matter of settling in, though. With time, the gaming community will get comfortable with the site. The onus has always been on developers to get exposure for their game via social media and gaming news sites. That will be slightly more important for devs while the site builds its reputation, but it does mean they won't be buried under board games. I'm looking forward to the future of Gamekicker, and I have pretty high hopes for what it can do for indie games.
System Shock Remastered

After twenty years, System Shock is being updated. Billed as a remastered re-imagining of the beloved original game, the update will run smoothly on modern systems. Night Dive Studios promises to keep the core game that fans liked, while updating the UI and running the game on Unity. The original concept artist is leading the art direction for the update, ensuring that the new graphics will be true to the classic. Night Dive will be launching a Kickstarter campaign on June 29th to fund the remastering. We will cover that campaign when it launches, and any updates from the devs between now and then.
That wraps up the Crowdfunding Roundup for this week. I'll be back next week to bring you the latest and greatest in horror gaming campaigns. Tweet me your suggestions, and you may see them in next week's Roundup. Until then, have a horrifyingly good time.
Update: The Twitter link for Gamekicker was incorrect at the time of posting. That has been corrected, so be sure to follow them on their official Twitter.