(UPDATE) Console Version of Overkill's TWD Reportedly Cancelled, Sony Issuing Refunds
UPDATE (2/21): According to publisher 505 Games, Overkill's The Walking Dead has not been canceled, and they're sticking with the "postponed" line from a few weeks ago. Sure, Jan.
So much for the Overkill version of this universe. A few weeks back we reported on parent company Starbreeze indefinitely postponing Overkill's The Walking Dead, to evaluate the game's "performance".Whether that meant "game" performance or "sales" performance was unclear at the time, but it looks like it's probably the latter as Sony has apparently begun issuing refunds to gamers who preordered the game. Reddit user u/PirateBlankFoul received this in their inbox: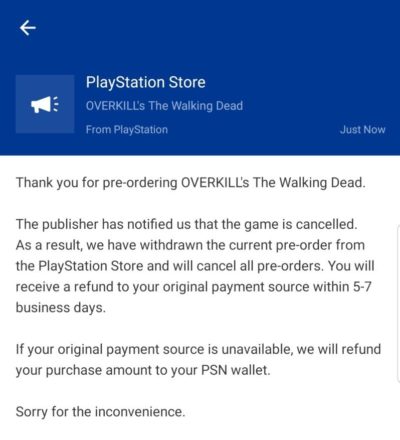 Obviously, this is just one Reddit user, but we double checked and the PS Store store pre-order link is now a 404 link. The game does appear to still be available for pre-order everywhere else, though, but if Sony officially turned off the ability to do so, I'd expect others to follow suit soon.
Back when the Steam version released, we pretty much hated it. It was buggy, unfun, and the difficulty was a mess — not to mention the story (which series creator Robert Kirkman blew smoke up everyone's ass calling it "the greatest thing we've done yet in the Walking Dead universe") is a boring, meandering, and dumb mess. While it is a shame that Overkill worked hard to try and make something great (the game is honestly gorgeous and the basic concepts work on paper, just not in execution) only to have it blown into irrelevancy due to releasing arguably way, way too early. Another game releasing with the "patch it later" mentality that seems to seep through so much of the AAA space only to result in a game nobody wants to play when "later" comes. Obviously, the game is still available on Steam and getting somewhat regular updates there, but its player count has dropped off sharply (only a few hundred daily from an all-time peak of 14,000) and I honestly don't see myself returning to it, personally. But oh well, maybe the next Walking Dead shooter won't also be a buggy broken mess like the last two.
Maybe.
[Source]