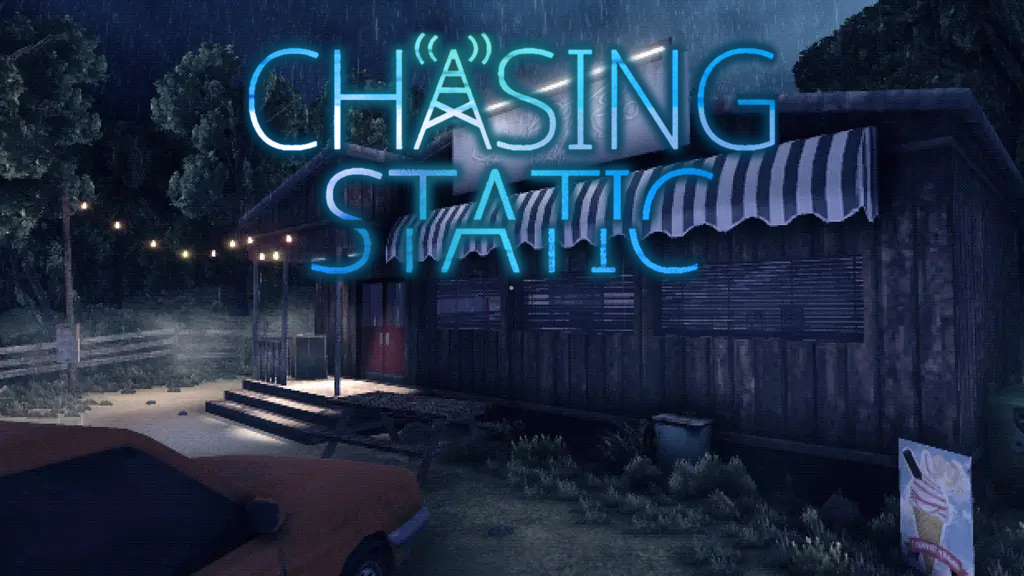 Good news for fans of low-poly atmospheric psychological horror games! Indie developer Headware Games' debut title, Chasing Static, has just been released on consoles. We previously covered an in-depth developer interview with Nathan Hamley of Headware Games.
The game follows protagonist Chris Selwood as he visits rural North Wales to attend the funeral of his late father. After stopping at a diner, Chris witnesses a waitress who gets violently pinned to the ceiling by an unseen force. He is then stalked by a monster throughout his time in haunted buildings and dark forests and must use tools like the Frequency Displacement Monitoring Device to unearth conversations between spirits. The lonely and unsettling world of Chasing Static is reminiscent of games like Silent Hill and Beyond the Black Rainbow and the game's aesthetic is reminiscent of retro 90s horror games with a story inspired by 80s sci-fi horror.
There are plenty of puzzles scattered throughout the game where clues can be combined to understand how spirits met their untimely demise. The game's first-person perspective combined with great voice acting talent and crunchy visuals delivers a striking experience to fans of the horror gaming genre.
Regarding the game's console release, Nathan Hamley said:
After so many people played Chasing Static on PC, it's my honor to invite console players on PlayStation, Nintendo, and Xbox to my Welsh nightmare. Being able to give as many people as possible the chance to experience Chasing Static is an incredible feeling I can't describe. We hope that players on Nintendo, PlayStation, and Xbox have just as terrifying experiences as the many who played on PC did.
Chasing Static
is now available on PlayStation 4 and 5, Nintendo Switch, Xbox Series X|S, and Xbox One, as well as its original
Steam release
. You can check out our review of the game
here
.