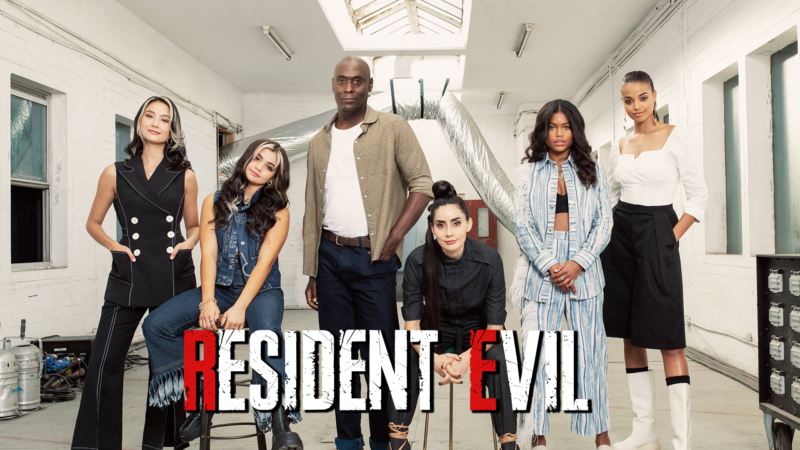 Today, during Netflix's Geeked Week stream (which showed off multiple game-related series in production), we finally got some new information regarding the live-action Resident Evil series coming to the service. Multiple 'sponsored ads' from the Umbrella Corporation teased the show's presence during the stream, finally culminating in a cast reveal for the series, including beloved series villain Albert Wesker.
Been dying to announce this. Get ready to enter New Raccoon City with the cast of RESIDENT EVIL: LANCE REDDICK / ELLA BALINSKA / TAMARA SMART / SIENA AGUDONG / ADELINE RUDOLPH / PAOLA NUNEZ. #GeekedWeek pic.twitter.com/ULKEFuYdAr

— Netflix Geeked (@NetflixGeeked) June 11, 2021
Lance Reddick has one hell of a pedigree with cool geek shit, appearing in the John Wick films, Godzilla vs Kong, Destiny, and Horizon: Zero Dawn. The rest of the cast I'm not quite as familiar with — Ella Balinska (Charlie's Angles 2019), Tamara Smart (Artemis Fowl), Siena Agudong (Upside-Down Magic), Adeline Rudolph (Riverdale), and Paola Núñez (The Purge TV series), but I'm sure they'll give it their all.
With no relation to either the canon Resident Evil: Infinite Darkness anime series nor the upcoming live action Resident Evil: Welcome to Raccoon City, this series (apparently titled simply 'Resident Evil') sets out to tell a new story unrelated to the games. Announced last year, this new show will follow characters Jade and Billie Wesker, daughters of Albert Wesker, as they begin a new life in New Raccoon City. The show also features some sort of time skip, showing these two characters struggling to survive in a post-apocalyptic Earth. I've previously commented on how this series sounds fucking terrible, and I've yet to see anything that changes my mind about that.
During the stream, Netflix threw out the hashtag #WhoIsWesker, which thus far hasn't quite been able to catch on to trending. Fan reaction seems to be one of confusion mixed with disinterest, based on following the hashtag, with a lot of people not following quite what this show even is, thanks to the other RE film projects coming. It didn't help that the advertising also used the Umbrella slogan 'Our Business is Life Itself', which was made up for the Paul WS Anderson films and is not from the games (where the slogan was 'Protecting the Health of the People'), muddying the waters even more.
The show is still probably a long way off from actually airing, so it'll be a while before we have more to talk about. In the meantime, the much better sounding Resident Evil: Infinite Darkness hits Netflix July 8th, and the live-action film reboot, Resident Evil: Welcome to Raccoon City, on November 24th.