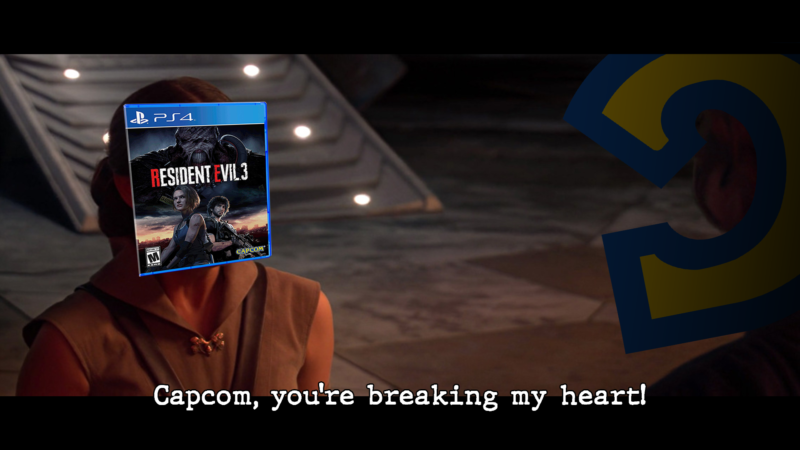 Welp, that's that then. Ever since Resident Evil 3 remake's release in March, fans have been desperately hoping that the game would receive DLC of some kind. Much of the criticism of the Resident Evil 3 remake centered on its short length and the wealth of content cut from the original game (including multiple enemies, environments, weapons, and modes), and it was hoped that post-release content would make up for that. Well, looks like that dream will have to remain just that, as Capcom's Peter Fabiano clarified the future of Resident Evil 3's content in an interview with Siliconera:
Siliconera: Is Resident Evil 3 a finished project, or are there any tweaks or updates in the works?

Fabiano: Resident Evil 3 is a finished product.
Ouch. It looks like if we want to revisit locations like St. Micheal's Clock Tower and do battle against beasts like Gravedigger — we'll have to stick with Resident Evil 3: Nemesis from 1999. To be fair, I'm not all that surprised, especially with the announcement of Resident Evil 8 appearing to be imminent, but it is still a huge shame.
It is a bit surprising considering Resident Evil's history of post-launch content, however. The Resident Evil 2 remake had a slew of post-release content, all of which were released in the form of free updates to the game (that isn't counting the launch DLC, which was part of the Collector's Edition or paid DLC otherwise). In fact, every game in the series since 2009's Resident Evil 5 received some sort of post-launch content; story DLC, bonus modes, costumes, etc. The only one that doesn't fit is Revelations, which had content added to it for free in post 3DS releases of the game.
It's also worth noting that this seemingly confirms no patches for the game as is, either, which is kinda… not amazing. Resident Evil 3 isn't a mess by any stretch, but the game has some pretty serious balance issues and there's several noticeable bugs that can damage the experience (the camera issues with some boss fights being the most obvious one). I'm a bit disappointed that those issues apparently won't be addressed. Update: A new patch for Resident Evil 3 released over the last day, though, there are no patch notes. Fabianio's statement may be in reference to content-based updates, not patches. That said, the patch was no doubt in the works for some time, so this very well could be the last one, which would align with game support being done from here on. Time will tell.
Of course, even if Resident Evil 3 isn't getting any further content, its pack-in title Resident Evil: Resistance, does have a roadmap of upcoming content through "July onwards", and thus far all of it appears to be free updates that add in new characters and content as well as address balancing issues. That might not be what fans of the main game want to hear, although as a fan of Resistance I'm happy that at least one part of the package will be continuing to get attention.
[Source]