Bloodstained: Curse of the Moon 2 Announced with Reveal Trailer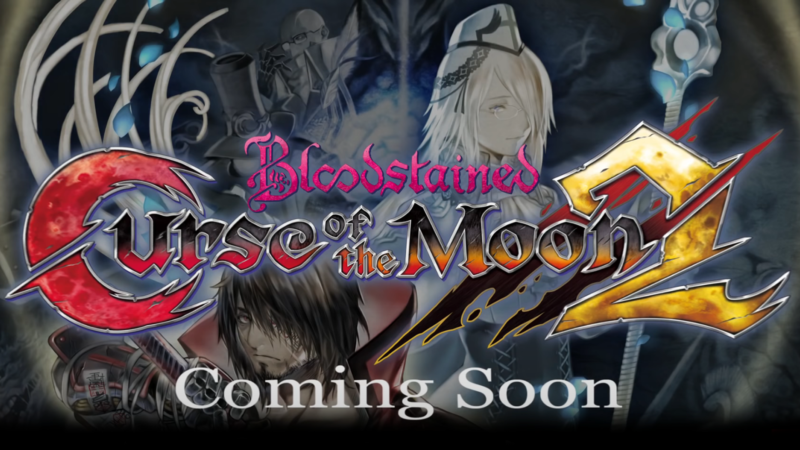 Following the thus far brilliant Bloodstained franchise (a spiritual replacement send-up to Konami's Castlevania series), we've just been alerted to the surprise reveal of an all-new sequel! This one won't be a continuation of 2019's Ritual of the Night (which was a fully 3D 'Metroidvania' style game), but rather a sequel to that game's prequel, revealed as Bloodstained: Curse of the Moon 2. Check out the reveal trailer:
Bloodstained: Curse of the Moon was a kick-starter bonus for Ritual of the Night, created thanks to a certain tier being hit. Rather than a 'Metroidvania' game, Curse of the Moon was more in line with the original Castlevania trilogy for NES, where you went in more or less a straight-arrow across the world and lacked any sort of RPG element. Even the visuals were deliberately designed to look 8-bit, although it does cheat a bit (parallax scrolling wasn't a thing back then). From the description:
Join Zangetsu, Dominique, and the rest of a brand new cast of characters as they battle with swords, whips, and more to defeat a new demonic threat in Bloodstained: Curse of the Moon 2! Curse of the Moon 2 brings classic 2D action and a dark, 8-bit aesthetic together with modern playability. The multiple-scenario structure of the previous title returns with an epic new story supervised by IGA (Koji Igarashi) himself. Players take control of Zangetsu, a swordsman from the far east who bears a deep grudge against demonkind. Zangetsu must battle his way to the demonic stronghold, but he doesn't have to do it alone! Zangetsu can ally himself with a brand new cast of characters he meets along the way and add them to the playable roster. Three brand-new playable characters appear in Bloodstained: Curse of the Moon 2, including the exorcist Dominique. Each new character adds a variety of gameplay options, abilities, and ways to complete the games' many stages.
We can't wait to hear more, Ritual of the Night was a huge highlight for me in 2019, and I look forward to revisiting this world (even if the more traditional NES Castlevania style hasn't ever been my thing). Bloodstained: Curse of the Moon 2 doesn't have a release date just yet, but will be releasing across all current-gen platforms. Hell, depending on how far away the game releases, it could always end up being cross-platform to next-gen as well.