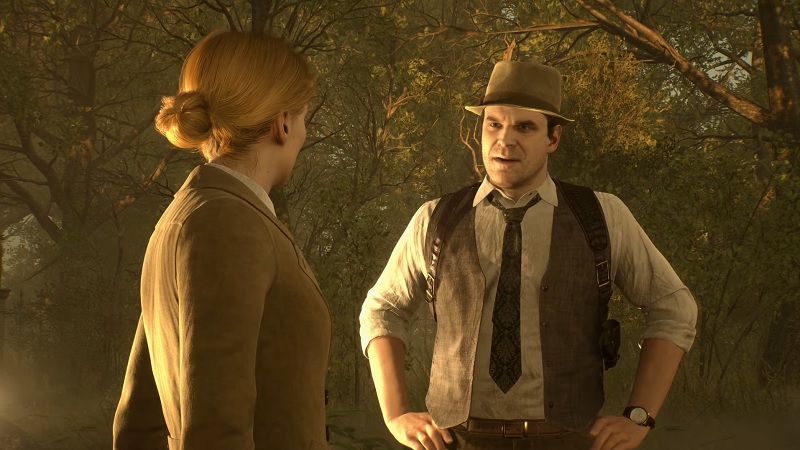 There's not long to wait now until the new Alone in the Dark releases. Until then, publisher THQ Nordic has recently shown some footage from the game, demonstrating aspects of the gameplay, puzzles, and story elements. Called "Looking for Jeremy," the video trails the two main protagonists as they arrive at Derceto Manor.
Following Emily Hartwood and private investigator Edward Carny, Alone in the Dark tells the story of the missing aforementioned Jeremy Hartwood, AKA Emily's uncle. It's a reimagining of the original 1992 classic that pretty much set the scene for survival horror. The game is due to release on January 16, but you can download the prologue from Steam to get a taste of things to come.
After receiving a mysterious letter, Emily and Private Investigator Edward are arriving at the Derceto Manor to uncover unexplainable happenings and to find Jeremy!#AloneInTheDark #ReturnToDercetohttps://t.co/Mlk0YqCCca

— Alone in the Dark (@AITDGame) November 8, 2023
It's being developed by Pieces Interactive, best known for the Magicka series. You might not think this would make the team suitable for reviving an iconic horror series, but with Mikael Hedberg writing the story, we're pretty excited about the game. Longtime horror fans will be familiar with his work, even if they don't know his name. Responsible for SOMA and Amnesia: The Dark Descent (as well as lending a hand for Amnesia: Rebirth), it's fair to say that Hedberg knows horror.
While Alone in the Dark hasn't really had a great track record over the years (save for the original, of course), we're hoping this new attempt to breathe life into the franchise will pan out this time. The game will be releasing on PC, PS5, and Xbox Series X|S. You can check out the new gameplay footage below.