Alien: Isolation can be completed without killing enemies, allows revisiting of previous levels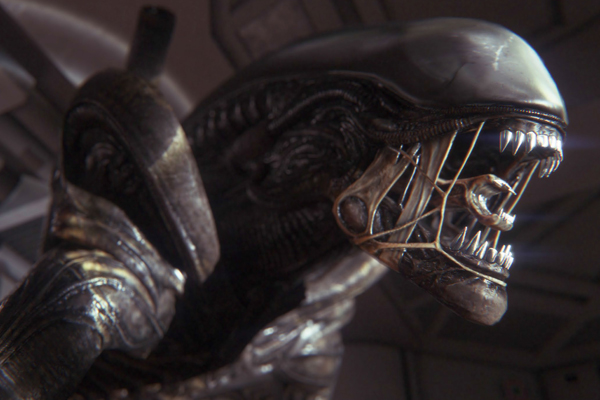 From everything released to us thus far, the threats you'll be facing in Alien: Isolation come down to a lone xenomorph, synthetic humans, and possibly human soldiers at one point, not to mention any environmental hazards. Gary Napper, the lead designer on the project, claims you'll be able to finish the game without eliminating any of these threats, which is truly a bold statement.
"I think the thing we face mostly on this is when we explain the core idea of 'It's you versus the alien', people go 'that'll be amazing! But I'm going to be bored after three hours'… If you can extrapolate from at the beginning having nothing and it's just you hiding from the alien, to come up to what [we've shown so far] – and then extend that out for another while – there's actually a hell of a lot we do with the game that's really interesting. And obviously we like to mix it up a bit as well."
Gaming journalists have been witness to a demo in which the developers showcased Amanda Ripley's ability of solving problems in more than one way. In one specific scenario, they saw twelve, twelve, subtle ways to conclude an objective. What that objective is, we're not sure yet. Naturally I'd take this as hype building, but some other things Napper had to say has me even more excited for Alien: Isolation.
"The mission structure is something we built around the idea of the station being a real place. There are too many games where it's a linear experience and, for example, you walk through a door, it closes behind you and you can't go back through it. Why is that? As you progress through the station and unlock more areas you can always go back to the areas you've been through. A big part of that was making sure that when you go back there's still things going on, so it didn't feel like 'I've done this area, I'll be fine' – the alien can actually be anywhere… It's very much a Metroidvania style of unlocking things."
Metrodvania style. Classic Resident Evil backtracking. The single xenomorph is a spine-tingling godsend to a survival horror veteran such as myself, but like many others, I grew concerned when it was announced there would be other enemies. But Napper's following comment has quelled my fear and raised my excitement level, justly.
"You can get through the entire game without killing someone. It's something that was, not so much a challenge, but something I felt was what the character would do. We're talking about a member of the Ripley family – they're not like characters in games that gun down civilians because they're in the way to get to the switch."
We've caught glimpses of the tools Ripley will be using throughout the game, one of them being the classic motion detector (and a flame thrower!).
"It's only 2D," Napper explains of the iconic made-for-the-movie-suspense-machine. "It's those kinds of things that give you a lot of gameplay – you're tracking the alien or a human or whatever, they could be on the floor below you, they could be in the ducts above you, they could be behind the wall – you're never totally sure where these things are."
I know no bigger fan of the Alien universe personally other than myself, and I must say that everything coming out of the media about Alien: Isolation has me stirring. Not only does it look like an excellent survival horror game set in one of the best sci-fi/horror universes of all time, but it's so far making full use of the movie's most memorable elements, such as the motion tracker, the 70's POV of the future, and the film's lore. Not to mention a Metroidvania/Resident Evil style of exploration. It's clear to me that the people working on this title are absolutely in love with it.
"It's definitely an opportunity – how often do you get to make that game you've always wanted to play? People can go their entire career without doing that. Everyone's been really happy to join this team and get a chance to be a part of it."
Alien: Isolation releases this October on PS3, PS4, Xbox 360, and Xbox One. Pre-order it now to relive scenes from the original film.
[Source]