Dementium, the first-person survival horror game that originally found its footing on Nintendo DS, might be getting a third entry, as long as the fans want it to happen. Earlier this week, Jools Watsham, Co-founder and Director of Renegade Kid, took to Twitter to gauge interest in a third game. He is asking for fans to Retweet and favorite his Tweet to show their support for a potential Kickstarter campaign for Dementium III.
Rely on Horror had an opportunity to chat with Watsham about the series, and its future in a third installment.
Q: The Dementium series has primarily been a Nintendo DS/3DS franchise. The series had a brief encounter on PC with Dementium II HD. Would Dementium III be a 3DS title? Does Renegade Kid have any interest in developing for PC or PS Vita? What about Wii U?
My ideal scenario would be to develop Dementium III for 3DS and the current consoles, including Wii U, PS4, XB1, Steam, and maybe even NX if / when we learn more about that. Whether or not this is realistic, I don't know – but it is what I would like to do. 🙂
Q: What was the reaction to Dementium II HD? Do you think the franchise has a future on other platforms like PC? Has there been any movement to get the first entry the HD treatment?
Renegade Kid was not involved in the creation of Dementium II HD for PC. There are no plans at this time to bring the first Dementium to PC.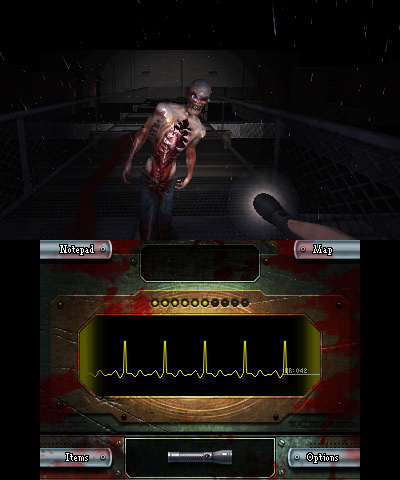 Q: Has development started on Dementium III?
No, development of Dementium III has not started. It is something we have wanted to work on for many years, but until we have the budget to do so, it will languish in purgatory, unfortunately.
Q: Would you say the sequel is dependant on crowdfunding?
Yes, very much so. Projects like this require a significant budget to accomplish. The budget for the original Dementium was $320,000, and Dementium II cost over $500,000 to develop. And this was for Nintendo DS. A third entry in the series will require even more money to produce an experience that is competitive in today's market.
Q:  What has the fan reaction been so far to the concept of a Dementium III crowdfunding campaign?
This all began with a tweet I posted on Tuesday evening, and the fan reaction has been very positive so far. Even though this may seem silly to some, I am basing the fans desire – and ultimately the fate of the game as a crowdfunded campaign – on how many retweets and likes it generates. Launching a crowdfunding campaign takes a tremendous effort and cost, and it is not something we will enter into without confidence in public support. Gauging public interest on social media seems like a fitting way to do that.
Q: Is the story already written? Will the game feature William Redmoor?
We have generated a number of different concepts for Dementium III over the years, so there's no shortage of ideas. But, there is no final draft so to speak. That is something we would devote our energy to when/if the project becomes a reality.
Q: What are some new concepts or gameplay elements that you would introduce into the third Dementium? What would better hardware (3DS/PC/Wii U) allow you to do that you never could on the DS?
I would approach it as a modern survival horror games in as much as adapting the controls and such to today's first-person titles. But, unlike most of today's big budget survival horror games, I would focus on the survival aspect of the game experience, with an emphasis on fear, feeling lonely, and other emotions of desperation in lieu of focusing only on action and combat.
Crazy (But Serious) Question Time! Would you back a Dementium 3 @kickstarter? RT = Yes. RT + FAV = HELL YES! pic.twitter.com/GfRAvm9HxS

— Jools Watsham (@JoolsWatsham) February 3, 2016
Q: Your tweet is gauging interest in a Kickstarter, what kind of interest (RTs) are you looking for to warrant a crowdfunding campaign?
For me to feel confident in launching a successful crowdfunding campaign we will need thousands of retweets and likes. This is a tall order, for sure, but this would be the measure of public interest I need to move forward with it.
Watsham encourages fans to engage in his tweet if they want to see a third game in the Dementium franchise.