Guide: The Suffering PC Fixes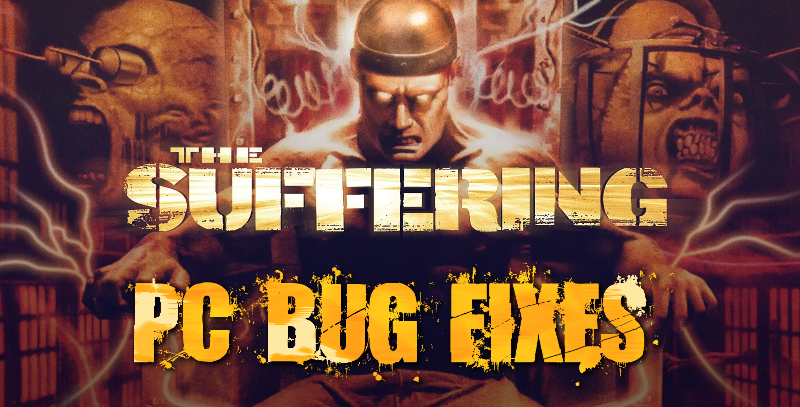 The Suffering and its sequel have once again become available on Windows PC, but with access to these two decade old games comes a price: lots of pain in the butt bugs and compatibility issues. I purchased the first game from GOG.com and had a frustrating experience out of the gate, running into multiple crash-to-desktop bugs, failure to launch issues, and in-game glitches.
I figured I'd put together a list of common issues and solutions that worked for me to help those trying to re-play this cult classic. Hopefully I can save you some time. I'll continue to add to this guide as I learn of new solutions. If you discover any yourself, let me know in the comments!
Direct X 8.1 Error 
This issue was the first thing I encountered while playing from my Windows 10 PC. It completely prevents you from launching the game without this old software installed. A quick and simply way to fix this is to go into the Programs and Features window and select the "Turn Windows features on or off" option. From there, select Legacy Components and check off "DirectPlay".
Valid Display Mode Error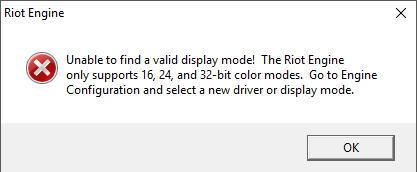 In the launcher there's a Display Drive drop down. For me, having two monitors active caused duplicate entries for my GPU to appear. Selecting the one that does not generate a Display Mode drop down will cause this error. In my case the wrong display driver was set as default.
What really sucks about this one is that if you don't know how to re-open the game launcher, you're stuck with this error. Compatibility mode to a Windows XP Service Pack lets the game launch, but this isn't ideal and may cause its own host of issues. See below how to access the launcher after initial setup.
How to Open The Launcher
Simply hold Shift and double click the app icon. Phew.
Crash During Loading Screen
This pesky issue prompted me to request a refund, essentially making the game unplayable. Through trial and error, I discovered that it's caused by the 3D Sound Buffers and Environmental Audio settings. You may lose a few "amazing" audio effects that I'm sure were technologically advanced for games of that era, but it's not like you'll enjoy them anyway if the game keeps crashing.
Fast Audio Bug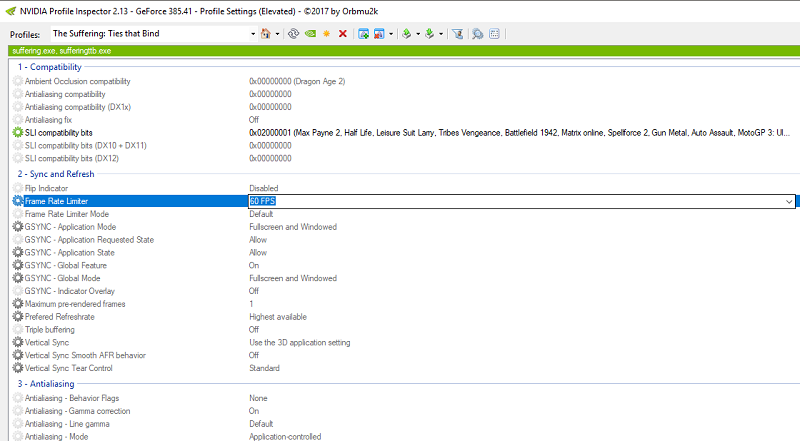 Experiencing chipmunk sounds as background audio and dialogue sounds way too fast? Your framerate for the game is too high. You can use a variety of apps to limit your FPS, but there's a simply tool already packed in with the game. Open the game's root folder (_:\GOG Games\The Suffering) and then proceed to the "_nvi" folder and open nvidiaProfileInspector. Use the search bar to find The Suffering: Ties That Bind (Even if you're doing this just for the first game). Find the frame rate limiter and set it to 60fps. Save your settings and you're done.