You should absolutely watch Dead Rising: Watchtower
I know what you're thinking. Video game movies suck. We all say that. Even when they're honestly pretty okay. Why in the world am I talking about Dead Rising: Watchtower, the 2015 Crackle exclusive movie based on the Capcom video games that absolutely nobody watched? Well, because I did watch it, and I love it.
Most video game movies fall into three categories: having little to nothing to do with the source material and just sort of winging it with stuff that looks more or less like the games (Resident Evil, Hitman), or trying to follow the general gist of the game's plot with some success, but still sort of its own thing (Tomb Raider, Silent Hill) or the ones that really, really just give up and maybe only attach a few names here and there, but that's it (Alone in the Dark, Super Mario Bros.).
But every now and then, we get the interesting fourth option, the tie-in film. There aren't too many of these that I can think of. Resident Evil: Degeneration comes to mind, as does Final Fantasy VII: Advent Children. These are movies that are actually canon to the games, and have an impact on the world and history of our favorite franchises. Dead Rising: Watchtower is, much to its benefit, one of these films.
Set between the events of  Dead Rising 2 and 3, Watchtower follows a young reporter named Chase Carter (Jesse Metcalfe) , who idolizes series star Frank West and is hoping to make his mark in the same way. Chase and his camera woman/partner Jordan (Keegan Connor Tracy) are covering a public relations story on a government quarantined area of Oregon, where FEZA (Federal Emergency Zombie Authority) is containing civilians infected with the zombie virus and maintaining administration of the anti-virus drug Zombrex (which doesn't cure the virus, but keeps the host human for another 24 hours). Interviewing the infected, Chase tries to stir up a story about the government abandoning its infected citizens, who are now chained to Zombrex and are forced to continue using the expensive drug or turn- when the unthinkable happens.
Despite the government issued Zombrex already being administered, some of the infected civilians begin to suddenly turn, and a full-scale zombie outbreak tears through the crowded checkpoint. Chase is abandoned inside the quarantine zone as Jordan is the last allowed through the quarantine zone's exit before the doors are sealed. Much like the games, guns are in no way the main focus of dealing with the undead, as Chase is forced to fight for survival with anything and everything he can find, and eventually makes it to relative safety with fellow survivors, Crystal (Meghan Ory) and a grieving mother, Maggie (Virginia Madsen); who was just forced to kill her only daughter after her Zombrex didn't take.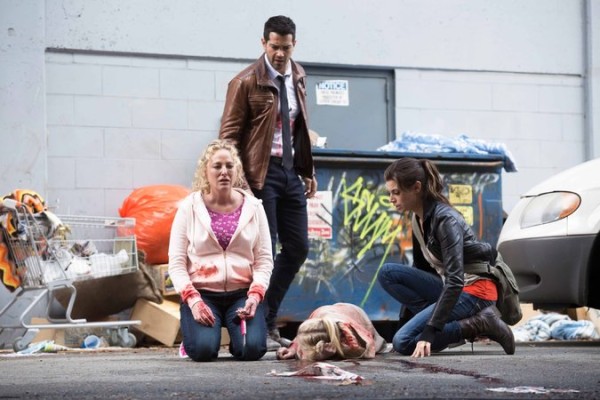 This movie has everything that makes Dead Rising what it is- the 72 hour countdown (as FEZA orders a fireboming of the quarantine area), fabulous customized weapons (including some directly from the game like the SledgeSaw, Sabershot and more), getting information from someone on the outside via phone, orange juice, a secret government conspiracy, psychopaths, and a wonderful blend of genuine horror and goofy moments. There are even smaller things from the games scattered throughout, like Mega Man ServBot heads and little golden Frank West statues. I was surprised how much they managed to actually pack in here from the games.
The other remarkable thing about Watchtower is that it also stands up on its own. Yeah, knowing what it's referencing and getting into the groove of a new Dead Rising story helps, but even with no knowledge it's a remarkably solid film. The twists are clever and unexpected, and the characters are surprisingly three dimensional, especially Crystal who is easily my favorite character in the film. The characters are smart and watching them work together feels good. For something that really shouldn't be all that, it's a pretty great zombie movie.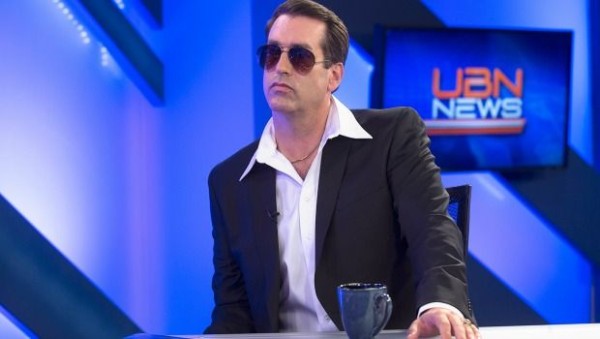 Of course, the other fun thing about the film is Rob Riggle portraying a live-action Frank West, who is providing commentary on the outbreak along with news anchor Susan Collier (Carrie Genzel) as the 72 hour time limit is counted down. While he wasn't my first choice, Riggle does an excellent job of bringing the mildly dickish and ever self-serving Frank to life. While Frank isn't really in his element, left to just sit in a studio and chat about killing zombies rather than actually doing it, it still feels right and he feels like Frank. He's even dressed in Frank's Off The Record outfit.
Honestly, considering how many bad video game movies there are, you should really try and give this one a shot. It's worth it. I left happy and better for it, anyway. Especially a particular twist that ties directly into the plot of Dead Rising 3 that actually left me so buzzed and excited I wished I knew anyone that had actually seen the movie to talk about it with.
So, give it a shot, I think it's worth it. Dead Rising: Watchtower is currently available on Crackle, and  free on Xbox platforms. It will be releasing on Bluray and DVD October 6th. And hey, it passes the Bechdel test weirdly enough. So there's another reason to see it.